Mills named VP of Finance and Administration
Published on May 16, 2021 under Academics, Alumni, Faculty & Staff, Foundation, General News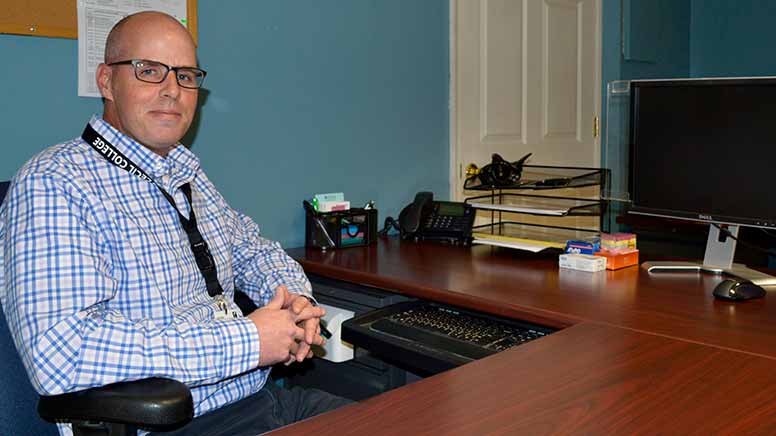 ---
NORTH EAST, Md. – As Cecil College continues to be a catalyst for the county's economic growth and enhanced quality of life, the College is excited to announce that, after a nationwide search, Christopher Mills has accepted the position of Vice President of Finance and Administration. Mills brings more than 15 years of managerial and supervisory experience in maritime, industrial plant, facilities, and construction environments to the role.
Mills is already familiar with the operations at Cecil College, having transitioned the Facilities Department's services (maintenance, custodial, and grounds) from a third-party vendor of more than 15 years to in-house operations. As the Director of Facilities and Capital Projects since January 2019, he was the lead on all facets of operations, from multi-million dollar operations and capital projects to forecasting and resource allocation to increase efficiencies throughout the institution. He directed and managed all phases of the College's capital improvement program to include short-term and long-term strategic planning related to the College's Master Plan, working with state and county agencies and representatives regarding the College's capital program funding requirements.
"I am very excited to continue my work at Cecil College and look forward to diving right into my new responsibilities for the betterment of the College," said Mills, a resident of Colora in Cecil County for more than 20 years.
The Vice President of Finance and Administration is responsible for the leadership, management, and supervision of the College's finance, facilities and capital programs, and public safety operations. Reporting to this position are the institution's Controller, Director of Facilities and Capital Programs, Executive Assistant to the Vice President of Administration and Finance, and bookstore operations.  Mills will also be the liaison for APG Federal Credit Union's campus branch.
Mills will advise Cecil College's president on all fiscal, budgetary, and business matters and provide oversight and leadership in developing the annual legislative operating and capital budgets.
Mills earned an associate degree in business and a Bachelor of Science degree in business administration and project management from Columbia Southern University (CSU), where he graduated Summa Cum Laude. In 2020, he earned his Master of Business Administration (MBA) in finance from CSU.
Throughout his career, Mills has been very active in professional training as he completed the Duke University Executive Education Leadership Program in 2017 and holds certifications for Accredited Marine Port Executive (AMPE), Certified Port Executive (CPE), and Facility Security Officer (FSO).
Since 1968, Cecil College has been serving the community and shaping its future through its open admissions policy to provide learning opportunities for all who have the desire and ability to benefit from its courses and programs. Centrally located in Maryland's most northeastern county adjacent to Interstate 95, Cecil College boasts a diverse student population, approximately 2,500 credit students and 3,400 non-credit students. Cecil offers associate degrees, certificate programs, and non-credit classes.