Dr. Horton presents at international conference
Published on November 26, 2019 under Academics, Faculty & Staff, General News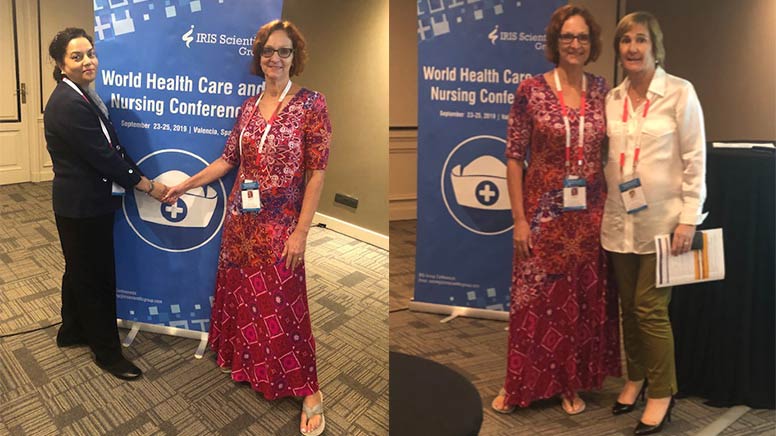 ---
NORTH EAST, Md. – In a world that appears to be shrinking under the crush of the information age, Cecil College's Professor of Nursing Cynthia Dr. Horton discovered quite the opposite when she was asked to present at the World Health Care and Nursing Conference (WHCNC) in Valencia, Spain.
The theme of this year's conference was Advances and Innovations in Health Care and Nursing with attendees from China, Australia, Taiwan, Germany, Finland, Sweden, Great Britain, the United States, and Canada. The conference allowed Dr. Horton to network with other professionals, including one of the organizers who was from Texas and oversaw 2,800 nurses.
Dr. Horton was able to attend this conference through a grant from the Maryland Higher Education Commission that was established to support the recertification credentials to maintain her Certified Nurse Educators (CNE). This accreditation must be renewed every five years, by demonstrating continued competence through speaking engagements, attending conferences, publications, and other professional development activities.
It was almost fate for Dr. Horton to speak at this conference as she was notified of receiving the grant on the same day she was invited to present. "It was amazing. I love to travel, and it was one of my professional goals to speak internationally. After being notified, I started thinking about the topic and got to thinking about the interprofessional education (IPE) workshop held between Cecil College and Arcadia University," said Dr. Horton.
Dr. Horton's presentation was entitled "Interprofessional education and its integration into a nursing curriculum," and discussed how Cecil College laid the groundwork for a collaborative training workshop with Arcadia University. These workshops provide an opportunity for students from different health professions to work as a team and learn what other health professions have to offer. During her presentation, one of the modifications Dr. Horton had to make was clarifying the role of a Physicians' Assistant as the positions don't exist in other parts of the world.
Many of the participants in the presentation expressed how importance of utilizing IPE in for the future of nursing education curriculums.   "Participants liked the fact we are not working in an atmosphere of silos and many questioned the barriers of coordinating such an experience at their colleges and universities." Dr. Horton discovered during the discussion the struggles that larger universities encountered within the different health care professionals and offered this suggestion:
"I feel you need a personal relationship with the people in other areas of the school. The organizers on both ends have to want to do this workshop. That is what we did when we started with the program at Arcadia University. They needed it for their accreditation, and we felt it was a need that our students needed to experience, so it was a Win-Win situation" stated Dr. Horton.