Nursing faculty, students answer the call for help with vaccination clinics
Published on February 4, 2021 under Academics, Faculty & Staff, General News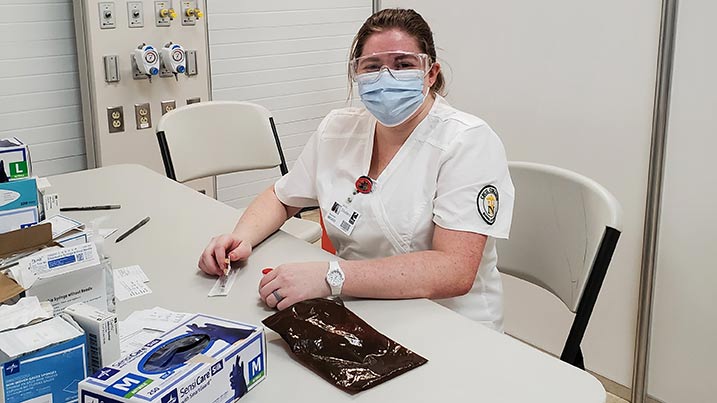 Brooke Wood
---
ELKTON, Md. – When ChristianaCare's Union Hospital put out a call for assistance with COVID-19 vaccination clinics to the greater healthcare community, the faculty and students in Cecil College's nursing program answered the appeal with vigor.
Cecil College's Professor Dr. Cynthia Horton and Associate Professor Dr. Shirley Gharbin mustered their senior nursing students to action to ensure the vaccination clinics had the help needed. This request for assistance turned into a real-life learning experience for the students who took part, as they were not behind the scenes but on the frontlines with other healthcare workers.
The faculty quickly made arrangements for all 45 senior students to complete the Center for Disease Control (CDC) training and guidelines. The students completed and obtained certificates for six CDC modules: 1. General overview of immunizations best practices for healthcare providers; 2. Moderna COVID-19 Vaccine: What healthcare professionals need to know; 3. Pfizer-BioNTech COVID-19 Vaccine: What Healthcare professionals need to know; 4. How nurses and medical assistants can foster a culture of immunization in practice; 5. Influenza vaccine updates; 6. You call the shots: Pneumococcal vaccine.
Cecil College will bring 15 nursing students to each five-week rotation to assist with the vaccination clinics every Monday, allowing multiple groups of students to assist the clinics. Dr. Gharbin supervises seven students from 6:30 a.m. – 11 a.m., while Dr. Horton is in charge of eight students from 11 a.m. – 3:30 p.m. The students assist in the vaccine administration and monitoring of all recipients.
The vaccination clinics began on Monday, Jan. 25, at Union Hospital in two tents located on the grounds of the medical facility. Those receiving the shot are treated in one of five booths in the first tent, and the second tent is utilized to monitor patients for any reactions. The students are rotating between both areas, vaccination and monitoring, after the vaccine.
This work also benefits the students in their studies at Cecil College as it fulfills a portion of their senior-level community clinical experience.
"After the first day of the clinic, the students' responses were overwhelmingly positive, and the students are grateful to be able to provide this much-needed opportunity to the community as a way of giving back. These students are not new to the community focus of nursing, they also had three weeks of community experience in various capacities last semester," said Dr. Horton.