President's List at Cecil College for Summer 2022
Published on September 7, 2022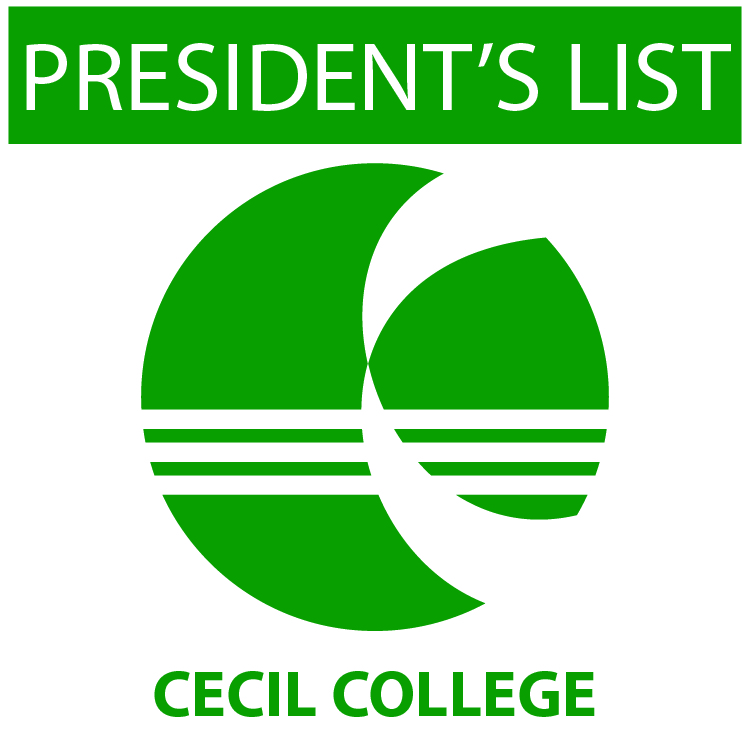 ---
NORTH EAST, Md. – Cecil College, which has been serving Cecil County and surrounding areas for more than 50 years, is proud to announce the names of students whose high academic performance has qualified them for recognition as members of the President's List for the recently completed Summer 2022 courses.
The President's List includes 115 students who achieved a grade-point average of 3.75 or higher.
Cecil College is centrally located in Maryland's most northeastern county with campuses in North East and Elkton. The College features a diverse student population, with approximately 2,500 credit students and 3,400 non-credit students. Cecil offers associate degrees, certificate programs, and non-credit classes.
Included on the list are the following students:
| Name | Hometown |
| --- | --- |
| Randy Barksdale | Bear, De |
| Perren Gyan | Bear, De |
| Maggie Kelley | Bel Air, Md |
| Lindsay Peters | Chesapeake City, Md |
| Brooke Brewer | Colora, Md |
| Mike Gilley | Colora, Md |
| Stephen Johansen | Colora, Md |
| Joseph Schaeffer | Colora, Md |
| Emily Custer | Conowingo, Md |
| Abigail Keen | Conowingo, Md |
| Amanda Pugh | Conowingo, Md |
| Robin Pyles | Conowingo, Md |
| Mika Coyle | Earleville, Md |
| Adam Davis | Earleville, Md |
| Kelly Fields | Earleville, Md |
| Nathaniel Alexander | Elkton, Md |
| Steven Altvater | Elkton, Md |
| Casey Andrews | Elkton, Md |
| Madeline Baranski | Elkton, Md |
| Kresta Basil | Elkton, Md |
| Gail Beck | Elkton, Md |
| Anna Belong | Elkton, Md |
| N'Fari Benjamin | Elkton, Md |
| Dorothy Berry | Elkton, |
| Cheyenne Brumage | Elkton, Md |
| Victoria Burrows | Elkton, Md |
| Tyler Caldwell | Elkton, Md |
| Jenna Cuza-Barteau | Elkton, Md |
| Natale Depase | Elkton, Md |
| Tarren Dumolo | Elkton, Md |
| Carley Esterling | Elkton, Md |
| Michael Fleming | Elkton, Md |
| Simone Foye | Elkton, Md |
| Coy Handy | Elkton, Md |
| Dominic Harris | Elkton, Md |
| Chelsea Henderson | Elkton, Md |
| Hannah Hines | Elkton, Md |
| Abigail Joyce | Elkton, Md |
| Donovan Moore | Elkton, Md |
| Michael Moore | Elkton, Md |
| Walter Morgan | Elkton, Md |
| Amanda Morrison | Elkton, Md |
| Olivia Ness | Elkton, Md |
| Jaivik Patel | Elkton, Md |
| Amanda Pepper | Elkton, Md |
| Aidan Pressler | Elkton, Md |
| Gina Rahn | Elkton, Md |
| Emma Rhoda | Elkton, Md |
| Kyle Riesett | Elkton, Md |
| Caitlin Riggs | Elkton, Md |
| Micaela Rogers | Elkton, Md |
| Zane Romberger | Elkton, Md |
| Trinitey Sanders | Elkton, Md |
| Lena Seidenberg | Elkton, Md |
| Christine Sharp | Elkton, Md |
| Alivia Smith | Elkton, Md |
| Mike Squitieri | Elkton, Md |
| Nickole Steele | Elkton, Md |
| Alicia Sturgill | Elkton, Md |
| Scott Sturgill | Elkton, Md |
| Andrew Swartout | Elkton, Md |
| William Taylor | Elkton, Md |
| Angie Teague | Elkton, Md |
| Alexander Van Luven | Elkton, Md |
| Samuel Williams | Elkton, Md |
| Derrick Wiseman | Elkton, Md |
| Dolrica Wright | Elkton, Md |
| Jessica Young | Elkton, Md |
| Abigail Graham | Landenberg, Pa |
| Walter Beaupre | Newark, De |
| Jessica Duncan | Newark, De |
| Estoria Bantner | North East, Md |
| Mary Birdsall-Hitchcock | North East, Md |
| Erica Dehlinger | North East, Md |
| Hannah Goodwin | North East, Md |
| Candy Greenleaf | North East, Md |
| Lindsay Hamilton | North East, Md |
| Grace Hammen | North East, Md |
| Marie Johnson | North East, Md |
| Kena Koch | North East, Md |
| Cindy Leedom | North East, Md |
| Erin Lintz | North East, Md |
| Jodi Martino | North East, Md |
| Samantha McCarthy | North East, Md |
| Beatrice Panceri | North East, Md |
| Raven Patterson | North East, Md |
| Robin Peters | North East, Md |
| Eva Santi | North East, Md |
| James Veasey | North East, Md |
| Nowell Clay | Nottingham, Pa |
| Sadie Kalman | Oxford, Pa |
| Anabelle Finegan | Perryville, Md |
| D'Artagnan Hubbs | Perryville, Md |
| Kayla Sexton | Perryville, Md |
| Caitlin Bryant | Port Deposit, Md |
| Mary Jo Fitz | Port Deposit, Md |
| Gabrielle Goodnow | Port Deposit, Md |
| Abigail Hughes | Port Deposit, Md |
| Kadee Husfelt | Port Deposit, Md |
| Alexander Nickle | Port Deposit, Md |
| Nicholas Ray | Port Deposit, Md |
| Brandi Roe | Port Deposit, Md |
| Jared Webb | Port Deposit, Md |
| Angelina Flowers | Rising Sun, Md |
| Rebecca Huegel | Rising Sun, Md |
| Karolina Marino | Rising Sun, Md |
| Kim McCaw | Rising Sun, Md |
| Chase Reese | Rising Sun, Md |
| Jessica Witmer | Rising Sun, Md |
| Carina Miller | Rosedale, Md |
| Elizabeth Baumeister | Street, Md |
| Bianca Norment | Townsend, De |
| Logan Szewczyk | Warwick, Md |
| Luke Wilson | West Grove, Pa |
| Cameron Bistawros | Wilmington, De |