President's List for Summer 2018
Published on August 22, 2018 under Academics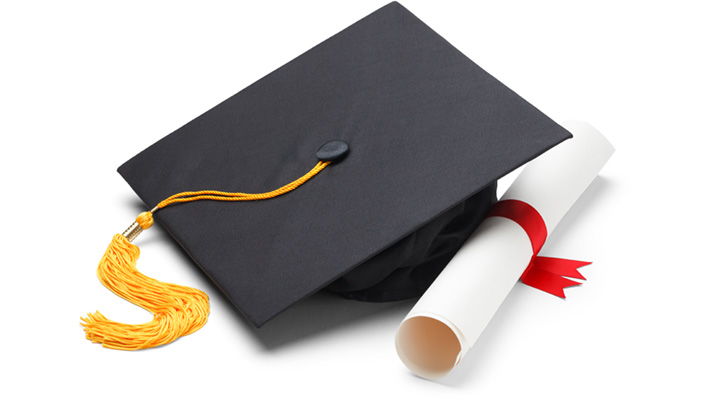 ---
NORTH EAST, Md. – Cecil College, which has been serving Cecil County and surrounding areas for 50 years, is proud to announce the names of students whose high academic performance has qualified them for recognition as members of the President's List for the recently completed 2018 Summer session.
The President's List includes 144 students who achieved a Grade-Point Average (GPA) of 3.75 or better for the Summer session. To be eligible for these honors, full-time students must have successfully completed 12 or more attempted credit hours; and part-time students must have successfully completed 6 attempted hours after accumulating 15 credit hours or more with a semester GPA of 3.75 or better for the Spring semester.
Cecil College is centrally located in Maryland's most northeastern county with campuses in the towns of North East and Elkton. The College features a diverse student population, with an enrollment of approximately 2,500 credit students and 3,400 non-credit students. Cecil offers associate degrees, certificate programs, and non-credit classes.
Included on the list are the following students:
| Name | Hometown |
| --- | --- |
| Nilda Acosta | Elkton, Md |
| Kortnee Aleshire | Elkton, Md |
| Brittany Atkins | Elkton, Md |
| Billie Baird | Oxford, Pa |
| Christine Barben | Rising Sun, Md |
| Brittany Barnett | Charlestown, Md |
| Sienna Bass | Elkton, Md |
| Millard Bibey | Aberdeen, Md |
| Victoria Bilsak | Elkton, Md |
| Jessica Bitondo | Elkton, Md |
| Steven Bland | Rising Sun, Md |
| Mohammed Bouceddi | Elkton, Md |
| Johannah Bowman | Elkton, Md |
| Savannah Brackins | Rising Sun, Md |
| Kyle Braune | Elkton, Md |
| Amber Bremer | Conowingo, Md |
| Autumn Broyles | Elkton, Md |
| Julie Burdette | North East, Md |
| Stacey Butcher | Port Deposit, Md |
| Laura Caldwell | Elkton, Md |
| Carrie Campbell | Worton, Md |
| Ashley-Amber Cannon | Rising Sun, Md |
| Renee Capano | Charlestown, Md |
| Katie Carroll | Elkton, Md |
| Krysta Chambers | Elkton, Md |
| Tina Chayer | Colora, Md |
| April Clark | Conowingo, Md |
| Patricia Connell | Rising Sun, Md |
| Carley Cooperman | Rising Sun, Md |
| Emily Cornish | Earleville, Md |
| Paula Cowen | North East, Md |
| Emily Cox | Elkton, Md |
| Connor Cunningham | Rising Sun, Md |
| Amanda Delp | Elkton, Md |
| Shyla Dempsey | Elkton, Md |
| Phillip Dipietro | Rising Sun, Md |
| Benjamin Duffy | Rising Sun, Md |
| Zachary Eckhart | Elkton, Md |
| Julianna Eckman | Elkton, Md |
| Taylor Edwards | Colora, Md |
| Danielle Ewing | Colora, Md |
| Lisa Figurelle | Wilmington, De |
| Lorilyn Fisher | Elkton, Md |
| Jessie Fitzgerald | North East, Md |
| Emily Fleagle | Colora, Md |
| Quentin Fleetwood | Newark, De |
| Amber Fontenelle | Newark, De |
| Caitlin Fox | North East, Md |
| Nicole Frappier | Elkton, Md |
| Christopher Frey | Rising Sun, Md |
| Kimberly Gill | Elkton, Md |
| Brent Gillis | Elkton, Md |
| Rebecca Goldberg | Elkton, Md |
| Victoria Green | Elkton, Md |
| Kilah Guns | North East, Md |
| Spencer Haber | New Castle, De |
| David Hamm | Colora, Md |
| Jacqueline Hamm | Colora, Md |
| Arthur Hasted | Oxford, Pa |
| Leah Hawkins | Cochranville, Pa |
| Kenneth Herrmann | Newark, De |
| Melissa Hicks | Elkton, Md |
| Heather Humphries | North East, Md |
| Jessie Immekus | Perryville, Md |
| Aaron Keithley | Elkton, Md |
| Samantha Kelly | Perryville, Md |
| Eileen Killman | Elkton, Md |
| Brittani Kircher | Elkton, Md |
| Danielle Kircher | Elk Mills, Md |
| Krystyne Kirk | Perryville, Md |
| Kena Koch | North East, Md |
| Hannah Larsen | Conowingo, Md |
| Ian Lee | North East, Md |
| Glenn Lemke | Newark, De |
| Bryanna Leonard | Elkton, Md |
| Nicole Lines | Delta, Pa |
| Shannon Mann | Elkton, Md |
| Vanessa Marrs | Port Deposit, Md |
| Keisha Maultsby | Wilmington, De |
| Jean-Luc May-Pohlman | Georgetown, Md |
| James Maziarz | Elkton, Md |
| Mackenzie McCracken | Conowingo, Md |
| Sean McGowan | Elkton, Md |
| Brian McMahon | Elkton, Md |
| Stephanie Methven | North East, Md |
| Linda Miller | Port Deposit, Md |
| Michele Miller | Rising Sun, Md |
| Samantha Milliner | Elkton, Md |
| Ashley Minshall | Earleville, Md |
| Jared Morse | Earleville, Md |
| Brian Murphy | Port Deposit, Md |
| Casey Nickles | North East, Md |
| Anthony Orr | Port Deposit, Md |
| Elijah Orzechowski | Conowingo, Md |
| Joey Owens | Port Deposit, Md |
| Kirsten Pannell | Elkton, Md |
| Janis Peters | Conowingo, Md |
| Alexis Phelps | Elkton, Md |
| Jay Pouska | North East, Md |
| Adelaide Quansah-Arku | Elkton, Md |
| Diamond Rankine | North East, Md |
| Coltan Ray | Rising Sun, Md |
| Tina Ray | Colora, Md |
| Anita Reed | Elkton, Md |
| Richard Reed | New Castle, De |
| Delana Ringer | Rising Sun, Md |
| Trevor Rodriguez | Elkton, Md |
| April Scott | Rising Sun, Md |
| Brenda Seekford | Colora, Md |
| Hallie Seibel | North East, Md |
| Sean Shackleton | Elkton, Md |
| Jessica Shamrock | Elkton, Md |
| Jennifer Sharpless | Elkton, Md |
| Mallory Sharpless | Elkton, Md |
| John Sheridan | North East, Md |
| Chad Sherrow | Elkton, Md |
| Christina Shirley | Elkton, Md |
| Aaliyah Silot | Elkton, Md |
| Katelyn Slonecker | North East, Md |
| Anthony Smith | Perryville, Md |
| Elaine Staudt | Bel Air, Md |
| Michael Stine | Elkton, Md |
| Allison Taylor | Elkton, Md |
| Briana Taylor | Elkton, Md |
| Louis Teletski | North East, Md |
| Lianella Teran | Elkton, Md |
| Casie Thomas | Elkton, Md |
| Courtney Thomas | North East, Md |
| John Thompson | Elkton, Md |
| Seth Tillman | Rising Sun, Md |
| Lisa Vincent | Rising Sun, Md |
| Jacquelyn Von Staden | Colora, Md |
| Samantha Von Staden | Colora, Md |
| Emily Waldridge | Elkton, Md |
| Timothy Walton | Elkton, Md |
| Jamie Weaver | Rising Sun, Md |
| Melissa Webb | Rising Sun, Md |
| Kathryn Werde | North East, Md |
| Joseph Whaley | Rising Sun, Md |
| Makenzie Wiegand | Rising Sun, Md |
| Jennifer Wilson | Rising Sun, Md |
| Pamela Wiseman | Chesapeake City, Md |
| Lyndsay Wobbleton | Newark, De |
| Sarra Wolfe | Elkton, Md |