Professor Dickenson's musical piece performed by local high school band
Published on December 16, 2019 under Alumni, Faculty & Staff, General News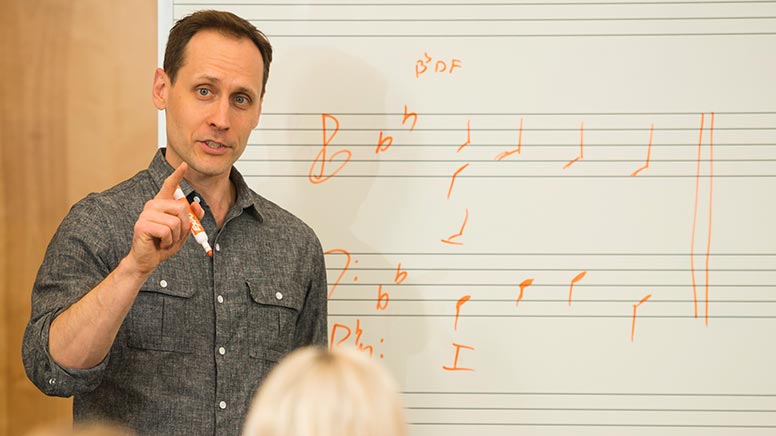 ---
ELKTON, Md. – The Elkton High School Band will perform music composed by Cecil College Professor of Performing Arts J. Andrew Dickenson during its holiday concert on Wednesday, Dec. 18, at 7 p.m. in the Elkton High School.
The orchestration created by Dickenson and Jon Luther includes four nocturnes and is dedicated to Danny Reynolds and the Elkton High School Band. The four nocturnes are 1. Sunrise on an Anonymous Morning; 2. Song for the Crescent Moon; 3. The Lady in Blue Dreams of Rain; 4. Skanking at the Waffle House.
Dickenson was granted a sabbatical by Cecil College in the Spring of 2018 with the idea of composing a piece more extensive than any project he has attempted before.
"While I didn't know what music I wanted to write, I saw it as an opportunity to challenge myself. I had written a lot of music for solo instruments and small ensembles. Still, I wanted to try something more ambitious by creating something for concert band or orchestra," said Dickenson.
Following several sketches that appeared to go nowhere, the music began to fall into place. With the collaborative help of Elkton High School's band director Danny Reynolds, the outline of these four movements began to take shape.
"Since high school students would be performing it, I chose to compose music based on memories of my teenage years. The process of writing became not only a musical journey, but also an excursion down memory lane involving friends, family, and loved ones," said Dickenson. "When I finished writing, I realized that all four movements unintentionally became homages to the night."
Upon reflection, it made perfect sense to Dickenson. The night is a time that certain magic occurs; when one can sit under the moon and feel freedom from the burden of school, parents, and teachers.
"I have many memories of staying up until dawn and watching the sunrise after nights of deep conversations and bonding with friends. I'll admit that sometimes we got into trouble, too. Still, overall, we were good kids just exploring our independence and dreaming of a time we could leave behind our small hometown for bigger and better things," Dickenson recalled.
Dickenson found working with Reynolds a rewarding experience with the first rehearsal of the music being pure pleasure. After months of listening to the composition played through a computer, hearing it played by live musicians was an experience of seeing something go from black and white to color for the first time.
"Danny offered valuable insight and feedback for this music, and watching him coach his ensemble has even given me ideas for my teaching. He has a wonderful relationship with his students, and it's clear that they respect and admire him," said Dickenson. "Danny has a very talented group of students at EHS, and it's an honor for me to hear them play this music. It's been fun sitting in on the rehearsals and hearing how the playing has evolved over the course of the semester."
Reynolds and the Elkton band have added musical gestures and interpretations that have made the music their own.