Reedy recognized as pioneer of Cecil athletics
Published on April 5, 2019 under Alumni, Athletics, Foundation, General News
---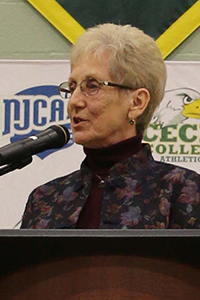 NORTH EAST, Md. – Cecil College held its inaugural Athletics Hall of Fame induction ceremony on Saturday, March 30, with seven of the institution's icons recognized. The Class of 2019 included pioneers who all had a hand in the creation, development, and growth of the Cecil athletics program. Among these pioneers was Mary Etta Reedy who launched the women's volleyball and basketball programs.
Reedy was joined in the Class of 2019 by legendary baseball coach Charles "Dick" Brockell (posthumously); Cecil College's winningest men's basketball coach William Lewit; former Cecil College Board of Trustee member and executive director of the College Foundation Mary Maloney; former longtime administrative assistant Shirley Weaver; former men's soccer coach, student-athlete advisor and mentor Dr. Thomas Topping; and former assistant athletics director Thomas Wilhide.
Reedy had a long, distinguished career not only in athletics but education. She has held numerous roles throughout the county from teacher to executive director, assistant principal to assistant superintendent. She carried that same tenaciousness to the athletic courts.
"I am so glad to be back here. It is just like coming home. It is such an honor to be a part of the history of this school," said Reedy. "I loved every minute of it and loved working with the student-athletes."
At North East High School, she coached three state champion volleyball teams, one state champion softball team, and also coached the boys and girls basketball teams. She brought that competitive nature to Cecil College back in 1972 and molded the women's volleyball team into a winning squad that won the NJCAA Region XX championship several times and advanced to the national tournament.
She also coached the women's basketball program in its early days to establish its winning foundation. While not capturing a regional title, several of her teams reached championship games.
Reedy reminisced about the season she had seven players on the women's basketball team, two of whom had babies. When the mothers were on the court, the two substitutes would look after the children. "It was just the way it was back then," said Reedy with a smile.
"It was gratifying to see some of our students go on to get scholarships at four -year colleges and then see them come back here to coach and share their experience with the next generation," added Reedy.