Rouselle named as new softball coach
Published on August 11, 2022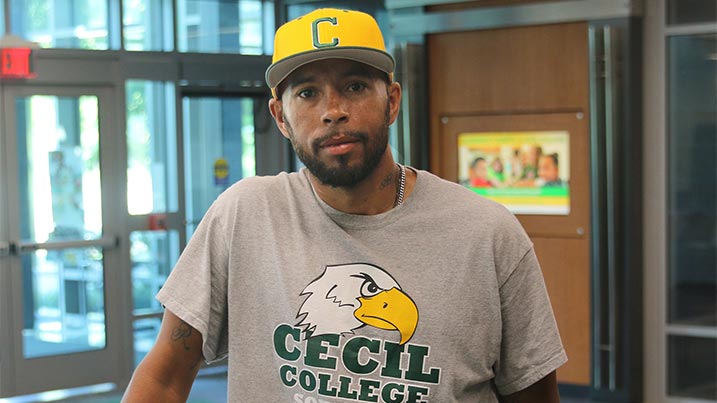 Aaron Rouselle
---
NORTH EAST, Md. – The crack of a bat returns to the North East Campus of Cecil College this fall as the Seahawks announce the hiring of Aaron J. Rouselle as the head softball coach. The Seahawks softball program took a hit due to the pandemic, shelving the program for three seasons. When Rouselle learned of the vacancy, he jumped at the opportunity to reboot the program.
"My vision is to recruit from within the county and then spread out. I envision making the Cecil College program a kind of Cecil County all-star team. The high school softball programs within the county are powerhouses from which I hope to form a collegiate level powerhouse," said Rouselle.
A Perryville High School graduate, Rouselle has coached youth baseball, softball, and basketball for the past 15 years. Off the field, he operates Pop's Culture in Rising Sun, a non-profit designed to provide mentorships and opportunities for local youth to participate in a sport. It is housed in a 2000-square-foot indoor training facility on Joseph Biggs Memorial Highway.
"I am deeply rooted within the community, which will benefit the rebuilding of Cecil College's softball program. The area high school coaches know my name and my commitment to seeing our local youth excel both on and off the playing field," said Rouselle, who holds a degree in exercise science from Harford Community College.
Rouselle has already reached out to the county's softball coaches, realizing that many of the players have already committed to other programs. His goal is to recruit those athletes who are still looking for a home to continue their softball careers heading into the 2023 spring season. The goal for Rouselle's first season will be to lay the program's foundation, then come back for the 2024 season with a competitive team.
"My role is not to teach them how to play softball. They know how to do that. I am here to teach them how to be competitive on this level and help them work through the long season with confidence and motivation," said Rouselle. "My success has been in my ability to teach young players how to look at the bigger picture. I help them understand and how to focus on what is best for the team."
Rouselle believes the lessons his student-athletes learn on the field carry over into life.