Saunders a role model for future generations
Published on July 8, 2019 under Alumni, Foundation, General News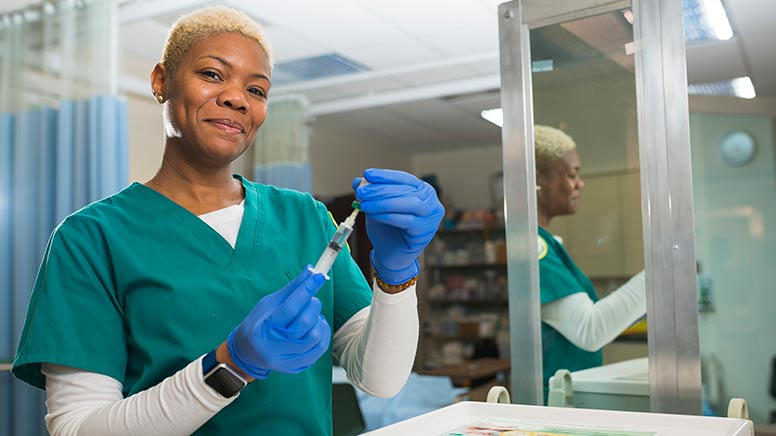 ---
NORTH EAST, Md. – When it comes to education, Virgena Saunders has been a stellar example to her children. Where some people say 'do as I say, not as I do,' Saunders is 'do as I do.' As a single mother with four children, she demonstrated the power of education by earning her associate degree in Healthcare Sciences this spring from Cecil College.
"When my daughter talks about me with her friends, she tells them how I was always reading and studying with my books open while doing the housework or cooking dinner. She has told me that when she feels her classes are getting too hard, she looks at what I have accomplished and is inspired," said Saunders, whose eldest daughter is in her second year of college.
In addition to being the first in her family to graduate college, Saunders was also the first in her family to graduate high school. Having seen her mother struggle to raise the family, Saunders was driven to become much more. When told she could not accomplish something, she worked that much harder to complete the challenge. This determination was the driving factor to be a role model for her children.
"I stress to my children that their education is the one thing no one can take away from them. Teachers will give you information, but it is up to you to learn it," said Saunders, who works at the Helen F. Graham Cancer Center & Research Institute in Newark.
Saunders, who also has a son who recently completed high school along with a 14-year-old and a seven-year-old, chose to go into the healthcare field because she has strived her entire life to help others. Early in her working career, she worked with inner-city children and realized the need to teach healthy living skills so the children avoided illness.
"I have always wanted to help people who were at a very vulnerable stage in their lives. You want to be able to step in and say, 'you may not be able to fix this, but I can help you.' No one wants to be in a state where they can no longer do for themselves or function at their optimal level," said Saunders, who had completed several healthcare courses over the years at Delaware Technical Community College prior to coming to Cecil College.
When she decided to complete her degree in Health Care Sciences, a co-worker informed her of the healthcare programs at Cecil College. She completed the Medical Assistant program and earned her certification from the American Association of Medical Assistants.
"I had heard they were known for their nursing program, but when I inquired about their other programs in the healthcare field, I was excited by the passion the advisors and instructors demonstrated. They had the same passion for helping others that I did, which made the transition into the program so easy," said Saunders, who soon became a role model for her classmates. "The instructors left a little bit of themselves with me. The instructors instill their passion for what they do into what the students learn."
This passion has also opened doors for Saunders at Cecil College, where she will return this fall to teach phlebotomy as an adjunct.
"I will be teaching them not only how to draw blood, but how to understand the patient and be compassionate. You need to be sympathetic to the feelings of the patient, especially if they are afraid of needles or are dealing with something else," said Saunders. "Being able to come back to a campus where I was shown so much love and support,  the opportunity to give back is an amazing feeling."