Senator Van Hollen visits cybersecurity program
Published on November 8, 2019 under Academics, Faculty & Staff, General News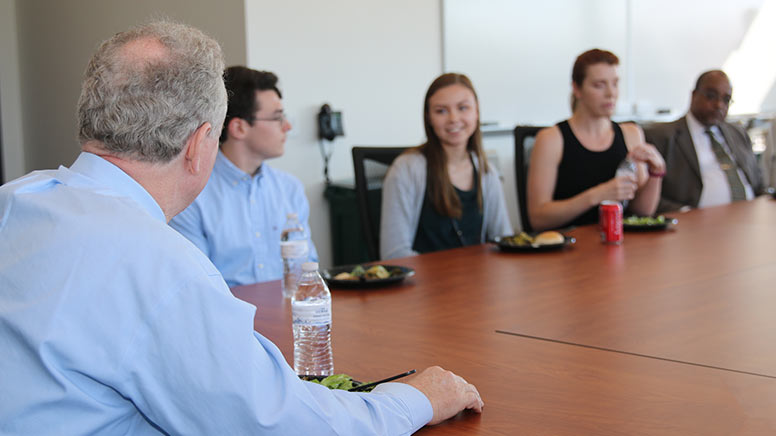 U.S. Sen. Chris Van Hollen listens to Cecil College students Garrett Jolly, Katherine Eisenhuth, and Brittney Barnett discuss their experiences in the cybersecurity program at Cecil College.
---
NORTH EAST, Md. – Cecil College is quickly becoming recognized as pivotal in the preparation of tomorrow's warriors. But these warriors won't be on the front lines of a battlefield, they will be the United States' first line of defense in the world of cybersecurity.
"Cyber is the new frontier with technology integrated into every aspect of our daily lives," said U.S. Sen. Chris Van Hollen, who was on the North East Campus of Cecil College this week touring the training grounds of the nation's future defense. "The people who are trying to hack into our systems are developing new tools and new technology all the time. We have to be ahead of the game and defense is always hard. If you are on offense, you can pick the point you want to attack, the weakest point. Whereas on defense, you have to strengthen every hole."
Cecil College has been designated a National Center of Academic Excellence (CAE) in Cyber Defense Education by the National Security Agency (NSA) and the Department of Homeland Security (DHS). Cecil is the seventh community college in the State of Maryland to hold this certification. Institutions are designated based on their robust degree programs and close alignment to specific cybersecurity-related knowledge units, which are validated by top subject matter experts in the field.
Sen. Van Hollen toured the cybersecurity labs on the North East Campus of Cecil College before meeting with students in the program over lunch. The purpose of his visit was to learn how his office could help advance the careers of these students on the federal level and to show his support for the efforts community colleges are making to confront this ever-growing threat to regional and national security. They discussed the fact that the biggest issue for filling information security analyst vacancies is security clearance.
"I realize there are a lot of people who are fearful of putting their debit card and personal information out there on the internet. I want to be part of the solution of making sure their information is secure and calm their nervousness," said Alvin Figueroa, a non-traditional student in his first semester of the program.
According to the U.S. Department of Labor, there are nearly 35,000 vacancies in cybersecurity jobs in Maryland. Despite intense recruitment efforts by private and government agencies, the shortage of trained personnel continues to be an issue. The starting salary for an information security analyst coming out of Cecil College's program is $65,000 with the national average being $98,000.
"The weakest link in cybersecurity are people. We have to find ways to train them to be cyber-aware. It is about providing the populous enough information so they know what they can and cannot do. The actors who commit cybercrimes are very sophisticated and have intimate  knowledge of the human psyche. They know how to pique your curiosity and trick you into making mistakes," said James Morgan, Ph.D., an Associate Professor of Computer Science at Cecil College. "The danger we see here is that it is going beyond the desktop computer. We need protection for our smartphones, mobile devices, and the smart technology in our homes."
Cecil College's Associate of Applied Science degree in cybersecurity prepares students to enter the workforce or transfer to a four-year institution for continued study in cybersecurity. Students demonstrate proficiency in programming language, secure Windows and Unix/Linux server and clients, routers, firewalls, email, networks, and other network security appliances and software. They also have an opportunity to earn their A+ Certification, Network Certification, Security+ Certification, and Cisco Certification before graduation. Students with bachelor's degrees in cybersecurity continue their education in graduate school or enter the workforce as a network, forensic, or computer security expert. To become a CAE-CD institution, Cecil College had to demonstrate its commitment to providing high-quality education in professionally relevant fields. Cecil College's designation in cyber defense extends through the academic year 2024.