Shields to play soccer at Wesley College
Published on May 20, 2019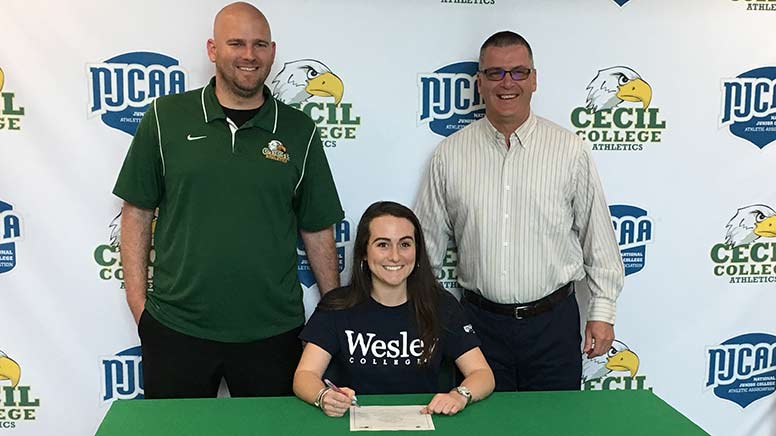 Katherine Shields is pictured with Head Coach, Patrick Letts (left), and Director of Athletics, Ed Durham.
---
NORTH EAST, Md. – Sophomore stand-out defender, Katherine Shields, signed a National Letter of Intent to continue her academic and athletic career as a member of the Wesley College women's soccer team.Shields will graduate this spring with an associate degree in general studies, and is enrolled in the nursing program at Wesley College.
Wesley College, located in Dover, Del., is a NCAA Division III institution and competes in the Atlantic East Conference. Last season, the Wolverines finished their season with an overall record of 9-5-2 and 4-1-1 against conference opponents. The Wolverines' 2018 season came after a close 1-0 loss in the conference semi-finals and a 4-2 in the first round of the Eastern Collegiate Athletic Conference (ECAC).
Shields was a dominant force on the defense and in the midfield for the Seahawks during the 2016 and 2018 seasons. The Seahawks did not field a team in 2017. As a sophomore, she played and started in all nine contests, helping the Seahawks to their only victory of the season over Community College of Baltimore County – Catonsville. Shields recorded her first goal of the season, and the Seahawks' lone penalty kick, in a loss to Montgomery College.
She was also a member of Cecil College's 2018-2019 women's basketball team where she scored 11 points. Shields resides in Chesapeake City and is a Bohemia Manor High School graduate.