It All Started Here … Cecil College's economic impact
Published on February 8, 2018 under 50th Anniversary, Alumni, Faculty & Staff, Foundation, General News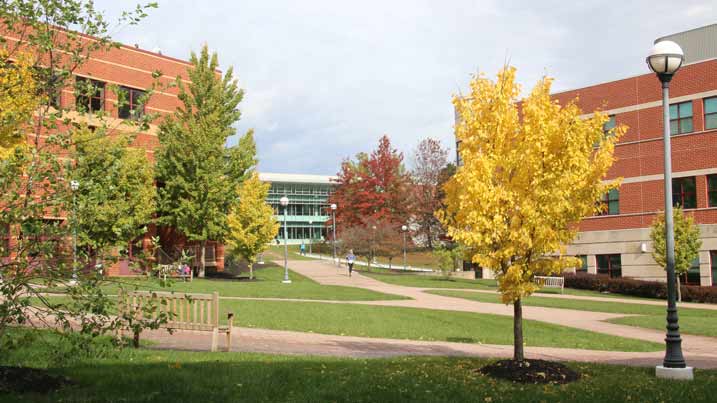 Cecil College creates value in many ways and plays a key role in helping students increase their employability and achieve their individual potential.
---
The importance of Cecil County's educational institutions was emphasized several times during the recent State of the County assessment presentation to state, county, and local officials and business leaders.
As Cecil College celebrates 50 years of excellence, the economic impact of the institution was apparent as the administration works with the Cecil County Public Library and Cecil County Public Schools in promoting education in the County. Cecil County Executive Alan McCarthy and Councilman Bob Meffley recognized this impact during their portions of the event.
"Cecil College creates value in many ways and plays a key role in helping students increase their employability and achieve their individual potential. It provides students with the skills they need to have a fulfilling and prosperous career. The College promotes an environment for students to meet new people, increase their self-confidence, and foster their overall health and well-being," said Cecil College President Mary Way Bolt, Ed.D.
An independent economic research firm's analysis of Cecil College's economic impact for the 2016 budget year, it was found that in 2016 Cecil College generated a $113.1 million impact on the County, supporting 2,159 jobs in the service and support industries. These industries included health care and social assistance, manufacturing, transportation and warehousing, entertainment and recreation as well as many other areas of the economy.
From the taxpayers' perspective, the College generates more in tax revenue than it receives from state and local government. This revenue stream comes in many forms, the most obvious being Cecil College graduates earn on average $9,500 more annually than individuals with a high school diploma. This stream of higher earnings equates to approximately $351,500 over their working lives.
"Workforce and industry certifications in addition to college degrees support an individual's lifetime earning potential. This trend will continue throughout the next several years as future workforce needs evolve," said Dr. Bolt.
The College serves more than 3,300 credit students and more than 3,800 non-credit students annually. They not only support the College with their tuition, fees, books, and supplies, but these 7,100 students pump $5.9 million into the local economy through the purchase of groceries, rent, transportation, service garages, restaurants, and entertainment.
Along with spending $16.9 million in the county for day-to-day operations during the 2016 budget year, the College employs more than 500 full- and part-time faculty and staff of which 58 percent live in the County limits. As with the students, the College's employees purchase groceries, clothing, household expenses, dining out, pay rent and property taxes.
An outcome that is difficult to measure but statistically apparent are the two social benefits communities have when hosting a community college. The largest benefit is the increase in prosperity within the region and expansion of the economic base for society as a whole. Secondly, education is correlated with a variety of lifestyle changes that generate social savings. These are in the area of avoided healthcare costs due to smoking, alcoholism, obesity, drug abuse, and mental disorders. There are also the benefits of lower crime rates and lower unemployment.
"As the College's enrollment grows I see the college's impact on the gross regional product continue to increase," said Dr. Bolt. "The College's Career and Community Department partners directly with local businesses to provide onsite training and skills enhancement.  Our teams meet directly with local businesses and listen to their workforce needs and together they define what training is needed to support employees of the business."