STEM students present findings from spring semester research
Published on July 22, 2022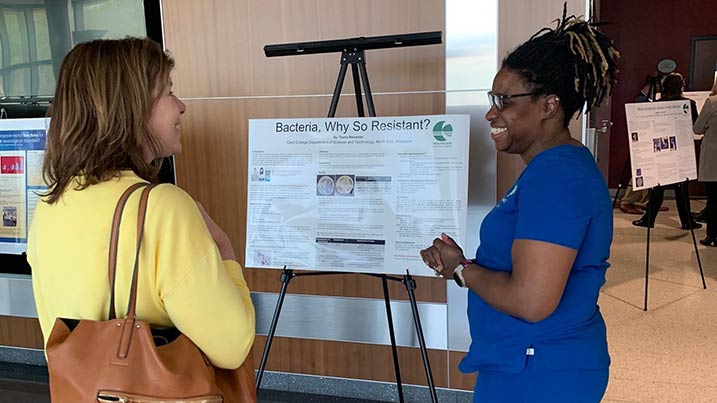 ---
NORTH EAST, Md. – For more than 30 years, Cecil College has been dedicated to offering STEM programs on the cutting edge of today's technology. The results of these programs were on full display during the bi-annual STEM Poster Presentation at the conclusion of the 2021 fall semester.
The STEM Poster Presentation is an opportunity for students to present their research findings for peer review. Each student introduced their research, hypothesis, research methods, and conclusions.
"This was a great opportunity to explore what I have learned this semester in my Biology II course and put it into practice," said Annika Fockler. She is majoring in biology with a concentration in environmental science. "The instructor-to-student ratio at Cecil College is outstanding to the point where the professor gave us a lot of support and assistance. When we had questions with our research, it was easy to ask questions and get immediate feedback."
Fockler and her lab partner, Carsyn Cernos, researched the effects of stimulants and depressants on the Daphnia Magna heart rate, a microscopic crustacean. They used ethanol as the base depressant and nicotine as the base stimulant, for which they had documented data. The third element, considered the unknown, was Bang Energy Drink, containing 300 milligrams of caffeine.
To their surprise, the Daphnia Magna heart rate plummeted instead of increasing as expected. To discover the reason behind this result, they researched plants that produce caffeine and found that plants excrete caffeine as a defense mechanism in nature. When insects bite the plant, their internal systems overload, and they die.
"We came up with two theories for the outcome of the Bang Energy Drink. The concentration was much higher than that used for the ethanol and nicotine. The extreme amount may have overwhelmed the Daphnia Magna, and it was the death of the creature. Our second theory is that the level of energy drink caused cardiac arrhythmia in the form of a disruption in the heartbeat, which could have spiked back up after we stopped observing the specimen," said Fockler. "I would have loved to had more time to perform the experiment again to see if the outcome was the same or if the heart rate would have climbed back up."
A Rising Sun High School graduate, Fockler will transfer to a four-year university after earning an associate degree in May. She hopes to become an environmental scientist with the national park service.
Another presentation by Katherine Haire covered the field of DNA sequencing. With her lab partner, Madelyn Eddinger, they were presented with a slice of fish and performed tests on the substance to confirm the species.
They began by mincing the sample and placing it in a microcentrifuge tube. In sequence, resuspension, lysis, and neutralization materials were added before placing the test tube in the centrifuge for five minutes. Following several more steps, the extracted DNA sample was applied to a gel swath in electrophoresis, and electricity was applied. The result identified the sample as rainbow trout.
"Without the state-of-the-art equipment the College provides, we would not have been able to conduct these types of experiments," said Haire, a first-year biology major. "We were happy with our strong results on the gel electrophoresis."
Cecil College launched a new degree program in bioproduction, which harnesses cellular processes to create vital industrial and medical products. This dynamic, interdisciplinary field incorporates biology, engineering, and chemistry, leading to careers in health and medicine, therapeutic proteins, vaccine development and production, and biofuel production. Cecil College offers a seamless transfer to top universities in the region.
In addition, Cecil College's engineering programs include aerospace, chemical, civil, computer, electrical, mechanical engineering, and engineering science. Regardless of which path you choose to pursue, our programs will prepare you to transfer to four-year colleges and universities to complete your bachelor's degree.
To learn more about Cecil College's STEM programs, visit www.cecil.edu/stem or contact Admissions at 410-287-1006, live chat at www.cecil.edu, or email admissions@nullcecil.edu.