Students complete inaugural HVAC apprenticeship
Published on May 11, 2022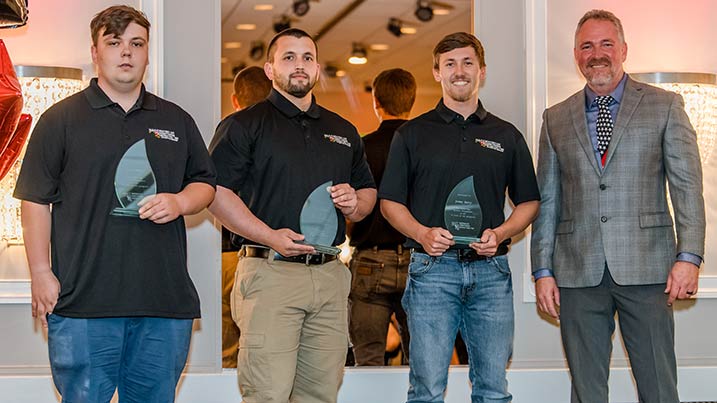 Seen here receiving an award for perfect attendance are Gregory Howe, Paul Carter, James Berry, Charles Hayden, HACC of MD board member and Chair of the Education Committee.
---
NORTH EAST, Md. – Four years ago, Cecil College's Office of Workforce Development collaborated with Maryland's Heating and Air Conditioning Contractors (HACC) and the Cecil County Public School System to create an apprenticeship program to train the next generations of HVAC technicians. This apprenticeship program provided training on installing, servicing, and repairing heating and air conditioning systems in residences and commercial settings.
The three organizations are proud to announce that the first cohort of apprentices has completed their training, earning the certificate to apply for and be granted a state HVACR journeyman license without taking the exam. The class of 2022 consists of five apprentices who have been working for regional companies while attending classes.
Zachary Allen works for Witkowski Mechanical, Tyler Bounds with R. Brooks Mechanical, Paul Carter with Crouse Brothers HVAC, Inc., Greg Howe with Moon Services, and Aaron Loveless with AireServ. These journeymen were among 66 graduates from across Maryland honored this last week during a ceremony.
"My friend got me into working with HVAC. I thought it was an interesting trade because it requires both mental and physical aspects. You must be on your toes and thinking of the next step for each job you are working on," said Howe, who, along with his classmate Paul Carter, were two of only four students to have perfect attendance over the four years of training. "The motivation behind taking these courses is knowing that I will have earned my journeyman card instead of taking the test when I am done with the program. It is an excellent trade where you must put your all into it. It is one of those trades where you will get out of it only the effort you put into it."
The apprentice program is a four-year curriculum that gives credit for on-the-job and classroom training. Classes are held two evenings a week, from September through April, with Carroll Community College, Cecil College, Harford Community College, and Howard Community College hosting the programs. Cecil County Public Schools hosts the Cecil College program at the School of Technology located on Appleton Road in Elkton.
"I could have taken my test to earn my journeyman license, but I decided to go through the course because I felt there was more to learn than what I would have by just reading a book. Having completed this program, I am better prepared to succeed in my career," said Carter.
Along with the classroom requirements, apprentices must earn 8,000 hours of on-the-job training within five years.
"Apprenticeships usually begin by assisting experienced technicians with carrying materials, insulating refrigerant lines, or cleaning furnaces. In time, apprentices will move on to more difficult tasks such as cutting and soldering pipes and checking electrical and electronic circuits," said John Lagnese, who taught the fourth year of training. "These guys got into this program because it is what they want to do for a career. What is hard about this training is that you work all day, go home, and relax for an hour. Then you have to come to class twice a week for several hours."
"This workforce program provides the dual outcome of skilled job training and economic development for our region.  It is essential because it provides in-demand, job-ready skills training allowing students to specialize in heating, ventilation, and air conditioning/refrigeration systems," said Cecil College President Dr. Mary Way Bolt. "These services are essential to keep businesses, the government, and our neighbor's homes running effectively. Congratulations to Cecil College's apprenticeship program graduates!"
Having earned their journeyman license, the next step in their careers is working toward their master's license which will take several years as they perfect their skills in the trade.
"For many years, the Introduction to HVAC/R program has been our most popular skilled trades course. It was only natural that we added the apprenticeship opportunity to our offerings. Now, talented and dedicated HVAC/R technicians can continue training under the guidance of an established company and experts in the field, enhancing their prospects for a career in the industry," said Miles Dean, dean of career and community education at Cecil College.