Students recipients of the Donald J. Waldon Memorial Scholarship
Published on April 10, 2020 under Academics, Foundation, General News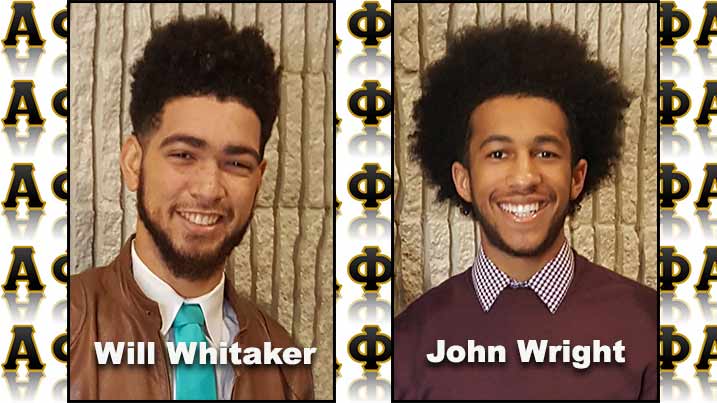 ---
NORTH EAST, Md. – Cecil College is proud to announce that two local students are the recipients of the Donald J. Waldon Memorial Scholarship and were honored during the annual banquet at the Richlin Ballroom in Edgewood, Md.
John Wright, an accounting major, and William S. Whitaker IV, a psychology major, were this year's recipients of the 43rd Annual Donald J. Waldon Memorial Scholarship which is sponsored by the Alpha Phi Alpha Fraternity Inc.
Wright, who lives in Elkton and is an Elkton High School graduate, is planning to continue his education at Towson University in the fall where he will continue his studies in business and accounting. When he's not in classes, he is tutoring students in accounting and working in the Student Life Office, as well as working at Union Hospital in their food services department. Wright also applied for an APGFCU Summer Internship.
A North East native, Whitaker graduated from North East High School and will complete his associate degree in December. He plans to continue his education at The University of Maryland to become a therapist. Like many Cecil College students, Whitaker holds down a job while attending class, and this scholarship will allow him to cut back his hours to focus on his education. He is also involved in assisting the Student Life Office with planning events.
Annually, up to two Cecil College students are eligible to receive full tuition, including fees and books, from the Alpha Phi Alpha Fraternity scholarship. This has been a great partnership between Cecil College and the local fraternity for many years. Students must be attending on a full-time basis, have at least a 2.5 GPA, and be committed to giving back to their community through volunteer work and extracurricular activities.
Students who wish to inquire about the Alpha Phi Alpha Fraternity Scholarship should contact Mayra Castillo, Coordinator of Student Diversity & Inclusivity, in Student Life at mcastillo@nullcecil.edu.