Sturgill receives statewide academic honor
Published on May 17, 2023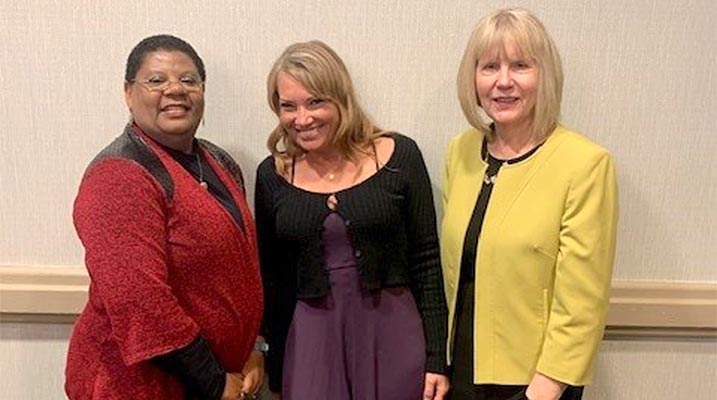 On hand for All-Maryland Academic Team recognition dinner were Director of Student Life Cheryl Davis-Robinson, Alicia Sturgill, and Cecil College President Dr. Mary Way Bolt.
---
NORTH EAST, Md. – Cecil College is honored to announce Alicia Sturgill was selected for the 2023 Phi Theta Kappa All-Maryland Academic Team in recognition of her academic achievements as a community college student in the State of Maryland.
During the 29th Annual All-Maryland Community College Recognition Dinner, Cecil College's Sturgill was among nearly two dozen community college students honored on the state level. Sturgill is a non-traditional returning adult student enrolled to enter the nursing program in the fall at Cecil College. She is also a graduate of Elkton High School.
"Phi Theta Kappa has provided me with many unexpected benefits. I look forward to being involved in future PTK induction ceremonies and helping others achieve their best," said Sturgill.
The Maryland All-State Academic Team Recognition Awards Program was introduced in 1995 to recognize Maryland community college students' academic achievements and leadership. This recognition qualifies them for a nomination for the All-USA Community College Academic Team.
Students are nominated for this honor by their college presidents and Phi Theta Kappa advisors and recognized by the Maryland Council of Community College Presidents and the Maryland Association of Community Colleges. This recognition qualifies them for local, regional, state, and national scholarships through PTK.
Phi Theta Kappa recognizes and encourages the academic achievement of two-year college students while providing opportunities for individual growth and development through academics, leadership, and service programming. It is the largest honor society in American higher education, established in 1918 by two Missouri two-year college presidents.