Barb and Jim Sweigard presented Mary A. Maloney Distinguished Service Award
Published on October 1, 2021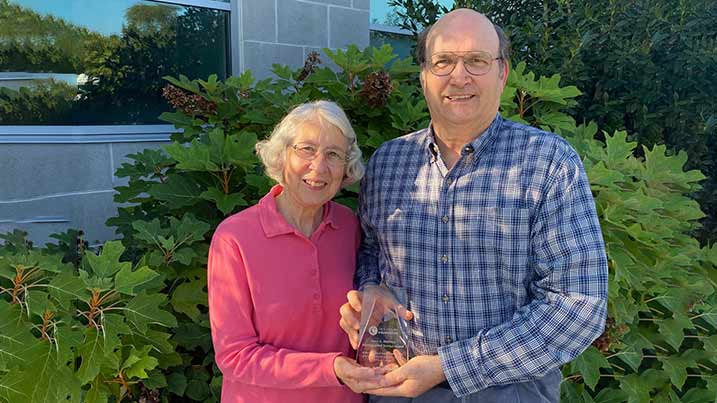 ---
NORTH EAST, Md. – Barb and Jim Sweigard live their lives under the axiom of public service to make the community a better place. This commitment and devotion made them ideal recipients of the Mary A. Maloney Distinguished Service Award.
"Our philosophy is that every student should be able to focus on achieving an outstanding education regardless of their financial situation. Through the creation of a scholarship in my parents' honor and supporting other scholarships financially, we know this is creating a brighter future for the next generation," said Barb Sweigard. "It is inspiring to meet the scholarship recipients and to hear the students speak about their experiences at Cecil College."
The Mary A. Maloney Distinguished Service Award is presented annually by the Cecil College Foundation to individuals who are graciously dedicated to public service. For decades, the Sweigards have been turning around to offer a helping hand to those that follow. As a school nurse, Barb Sweigard saw first-hand how some children in Cecil County need extra assistance.
This award is named for Mary Maloney, who became the first female county commissioner in Maryland in 1970. During her time in office, she established the Cecil County Department of Public Works, was responsible for proper implementation of the planning department, and actively participated in the Maryland Association of Counties. Along with serving on the Cecil College Board of Trustees for 24 years, she served on numerous other committees, councils, and boards within the county.
"We have always admired and been impressed by Mary Maloney's example of service. Her energy was contagious, and she inspired others to perform public service," said Barb Sweigard.
The Sweigards have been married for 46 years, 35 years of which have been as residents of Cecil County. Jim Sweigard was involved in molecular biology research, while Barb Sweigard was a stay-at-home mom in the beginning, raising their four children. After the children had grown, she attended Cecil College and graduated from the nursing program in 2002.
"I used my nursing skills to care for my parents in their final years and final days of life. In gratitude to Cecil College and in honor of my parents, we established the Charles and Mary Cole Nursing Scholarship in 2012," said Barb Sweigard. "Recently, we wanted to support students of color, so we began contributing to the Eva Muse Memorial Scholarship."
With six grandchildren, the Sweigards are working to instill the importance of giving back to the community.