Three Seahawk players receive all-region honors
Published on April 3, 2018 under Athletics, General News, Student Life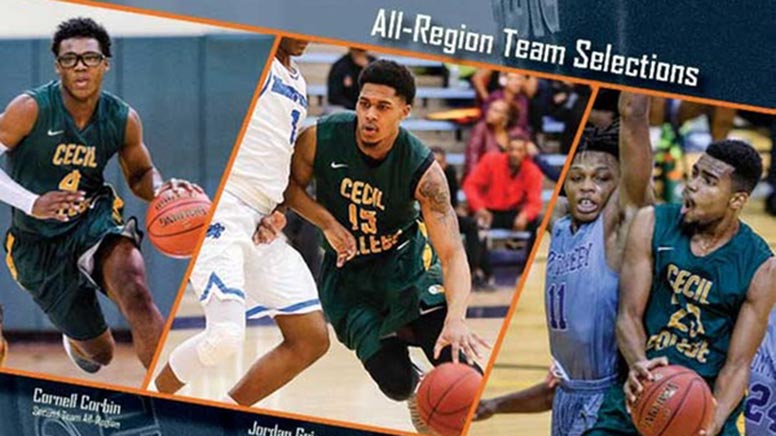 ---
NORTH EAST, Md. – Three members of the Cecil College men's basketball program were named to the NJCAA Division II, Region 20 All-Region Team, as voted by the men's basketball committee.
Leading the way for the Cecil College Seahawks was 6-foot-4 sophomore guard Jordan Griggs with an All-Region First Team selection. Griggs averaged 14.8 points per game to accumulate a season total of 472 points. He had a strong shooting presence on the floor after hitting 149-of-330 field goals. A native of Woodbridge, Va., he appeared in 32 games for the Seahawks, of which he started in 16.
Also receiving honors for Cecil College was freshman guard Cornell Corbin, selected to the All-Region Second Team after starting all 32 games this season. Despite being a smaller guard at 6-foot, he dominated the boards for the Seahawks to average eight per game to go with his 3.2 assists along with 50 steals on the season.
This Lincoln, Del., native averaged 13.1 points per game and was an all-conference selection, named to the conference all-tournament team, and selected to the Region XX All-Tournament team.
The third member of the Cecil College squad to be honored was sophomore guard Greg Alexander from Middle River, Md. He was recognized with an Honorable Mention for Region 20 as the jewel in his crown after two years with the Seahawks.
At 6-foot-3, finished the year as an all-conference selection and a member of the conference all-tournament team. Alexander ranked third on the team in points per game with 12.4 and scored 408 total points this season.
The Seahawks finished the season with a 15-18 overall record, a 6-3 record in Division II of Region XX, and as the NJCAA Division II, Region XX Runner-Up.