Two students receive All-Maryland academic honors
Published on May 16, 2019 under Academics, Alumni, Faculty & Staff, General News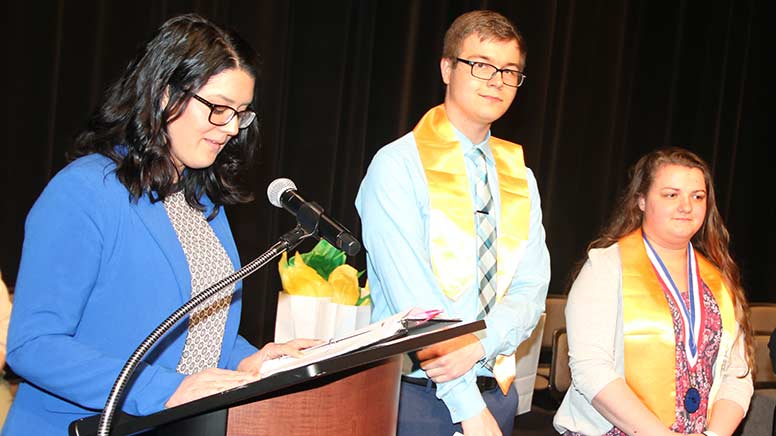 Assistant Professor of Biology Meredith Dillenger recognized Randall "Blake" Griffith and Andrea Nickle for their inclusion to the Phi Theta Kappa All-Maryland Academic Team during the annual Cecil College Awards Ceremony on Thursday, May 9, in the Milburn Stone Theatre. Dillenger is Cecil College's Alpha Alpha Theta Chapter advisor.
---
NORTH EAST, Md. – For the second time in five years, Cecil College was honored to have students selected for the Phi Theta Kappa All-Maryland Academic Team in recognition of their academic achievement as community college students in the State of Maryland. During the 25th Annual All-Maryland Community College Recognition Dinner held on Wednesday, May 2, at Turf Valley Resort and Conference Center, Cecil College's Randall "Blake" Griffith and Andrea Nickle were among 22 community college students honored on the state level.
"It was such an honor to be on hand to present Blake and Andrea with their medallions. They are true examples of the excellence community college students perform both in the classroom as well as out in the community," said Dr. Kimberly Joyce, Vice President of Student Services and Enrollment Management at Cecil College.
The Maryland All-State Academic Team Recognition Awards Program was introduced in 1995 to recognize Maryland community college students for their academic achievements and leadership. This recognition qualifies them for a nomination for the All-USA Community College Academic Team.
Griffith, a resident of Elkton, Md., earned an associate degree in business management and accounting and is the president of Cecil College's Alpha Alpha Theta Chapter of PTK. Along with serving on the Maryland Higher Education Commission Student Advisory Council, he was active in the community, a host of weekly trivia night at the College, and occasionally played the role of Quidditch Master at Rising Sun High School's Harry Potter Night. Griffith plans to attend Wilmington University to major in finance.
Following a devastating accident last year, Nickle overcame both physical and emotional injuries to achieve excellence in the classroom while fulfilling her passion for giving back to her community. Her determination and resilience have moved her past obstacles she never knew before, and she continues to excel in every aspect of her life.
Nickle, a resident of Elkton, Md.,  is a Student Ambassador for Cecil College and volunteers with the American Red Cross her church's vacation bible school. She plans to attend Salisbury University to major in social work.
Students are nominated for this honor by their college presidents and Phi Theta Kappa advisors and recognized by the Maryland Council of Community College Presidents and the Maryland Association of Community Colleges. This recognition qualifies them for local, regional, state, and national scholarships through PTK.
Phi Theta Kappa serves to recognize and encourage the academic achievement of two-year college students while providing opportunities for individual growth and development through academics, leadership, and service programming. It is the largest honor society in American higher education, having been established in 1918 by two Missouri two-year college presidents.