Vanni unveils 'Look to See' exhibit
Published on September 3, 2019 under Academics, Fine Arts, General News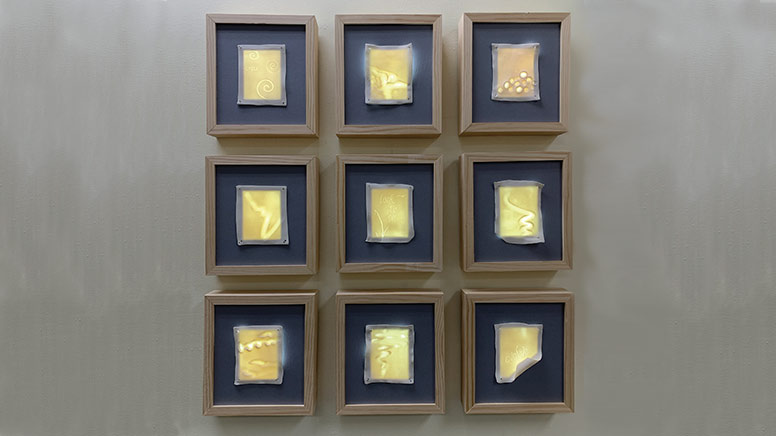 ---
NORTH EAST, Md. – Cecil College's Fine Art Department unveils its "Look to See" exhibition on Friday, Sept. 6, at 5 p.m. at the Elkton Station Gallery. This event is in conjunction with the First Friday Art Loop festivities in the Town of Elkton. The "Look to See" exhibit will be on display through Sept. 25.
"Look to See" is a collaborative show between Cecil College Professor of Art Lauren Vanni, and Patti Paulus, co-owner of The Palette & The Page. It combines ceramic forms and calligraphic marks to convey thoughts on the environment, global warming, and climate change. The exhibition intends to spark a dialogue about nature, engage the community, and draw attention to the relationship between humans and the natural world.
"This exhibit demonstrates the community alliances between the College and local artists, businesses and community members," said Cecil College Professor of Art Lauren Vanni. She has worked with Paulus on many fronts, including offering exhibition and internship opportunities for art students as well as developing scholarships for art students.
Inspired by natural forms, Vanni created ceramic sculptures, installations, and functional objects. She explored the landscape through multiple, interlocking, and nested elements. Scale, contrast, and function are used to encourage the viewer to look from different perspectives. Many pieces are ongoing, continuous, and able to be rearranged representing our changing interaction with the landscape and the changes of the land itself. Her recent works are responses to current environmental concerns, including climate change, global warming, and pollution.
"I chose porcelain for its smooth unglazed surfaces and ability to highlight subtle marks. Porcelain is fragile to build with but exhibits incredible strength and can last thousands of years. In my work, it represents both the strength and delicate qualities of nature," said Vanni.
This exhibition has shown at The Palette & The Page Gallery, Elkton, Md., in March of 2019. The Elkton Station Gallery exhibit will feature many new works in clay and on paper. Each time the show is displayed, it changes due to space opportunities. With clay and language, the conversation continues that promotes the viewer to 'look' and 'see' the human impact on nature.
"My lettering work is mostly as artistic expression, and the words chosen are those important to me and that I hope will touch others and provoke thought. "Look to See" is a collaborative effort between myself and ceramic artist, Lauren Vanni. We explored our two areas of expertise in combination and individually to draw attention to climate change, global warming, and the effect of humans on our world," said Paulus.
Through collaboration and experimentation in the studio, ideas developed and were translated through clay and words. Porcelain was chosen for its translucency, whiteness, and purity. These qualities draw emphasis on the surface subtleties and encourage the viewer to study the work. Scale shifts and functional objects were used to engage the audience to view the work from different perspectives. The porcelain was treated like a blank page as words and thoughts gathered. Several techniques were used during the process, including incising into ceramic forms, lettering in underglaze, photolithography, and hand-lettering ceramic decals and lusters. A palette of subtle blues and grays was chosen to reference nature. In some works, the Japanese art of repairing broken pottery called Kintsugi was used to highlight and enhance imperfections.
There will be an Opening Reception for "Look to See" exhibition on Friday, Sept. 6, from 5 – 8 p.m. at the Elkton Station Gallery. This event is free and open to the public.