Wainwright aims to make dreams possible for students
Published on September 10, 2019 under Academics, Alumni, Faculty & Staff, Foundation, General News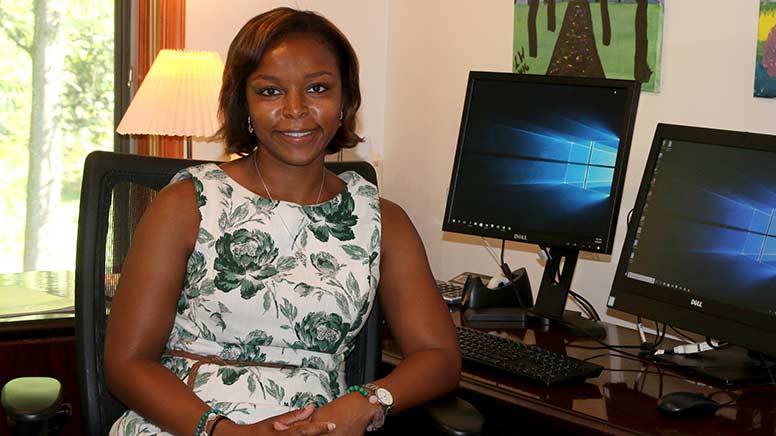 ---
NORTH EAST, Md. – Cecil College is excited to announce the appointment of Lisa Wainwright to the leadership role of Executive Director of the Cecil College Foundation and Alumni Development. This position, for which Wainwright is acutely qualified, is vital to the success of students at Cecil College.
In its inception, Cecil Community College was founded to be a local, affordable alternative to a four-year education. Over the last five decades, Cecil College has become much more, providing students a way to a better life and community through the pursuit of an education. Moving forward, Cecil College will continue to challenge and prepare students to meet the demanding needs of local business and industries.
"This is an opportunity to head up a significant foundation in a county that has a need. It's an opportunity to help grow not only the Foundation but also help grow certain resources that will benefit the residents of Cecil County," said Wainwright.
The Foundation assists students by offering financial support in the form of scholarships. Data shows students in a degree program who have received a scholarship were twice as likely to complete the degree as those who didn't apply for a scholarship. The data also revealed more than 90 percent of Cecil College students work 20 hours a week to make ends meet. Over a 15-week semester, a $100 scholarship means that a student can work one less hour a week and put that time toward their academic pursuits and family.
This mission falls right into the wheelhouse of Wainwright's talents as she comes to Cecil College from The Highlands School in Bel Air, Md., where she was responsible for seeking private donations to support the educational programs. In her role, she fostered relationships with key corporate sponsors to ensure involvement in all relevant chapter activities and recognition opportunities.
"I am very outgoing, and I have the personality to meet new people to build those relationships. I have a wonderful initiative to present here at Cecil College, and the College's story sells itself," said Wainwright. "Once you get someone's ear about a good cause, it is easy to get them involved and interested in how they can help."
With a bachelor's degree in psychology, an MBA in organizational management from Ashford University, and an MSW from Salisbury University, Wainwright has the background and understanding of the human psyche when it comes to public service and support of public institutions. It is a "balance of the needs of a local business in order to match them with the human services needs of students."
"I appreciate the power and benefit of a two-year degree more than any other degree I have obtained," said Wainwright who earned an associate degree in psychology. "I understand the doors two-year institutions open for the students and the opportunities it provides. More importantly, I appreciate the stage of development it allows a student to navigate at that point in their life."
One of the past successes she had the good fortune of being a part of was the "Big Event" which raised $125,000 for The Highlands School. Through sponsorships and community involvement, The Big Event featured a golf tournament, 5K/1-mile fun walk, tennis tournament, and much more to bring families and community together.
In her 100-day plan, Wainwright will be navigating Cecil County to meet as many community members, civic and business leaders as possible. During these introductions, she will have an opportunity to lay out her plans for the coming year which are designed to support students at Cecil College and their dreams.
To learn more about how to help Cecil County's youth own their futures through scholarships at Cecil College, contact Lisa Wainwright by calling 410-287-1041 or email lwainwright@nullcecil.edu.