Weaver celebrated by Cecil Athletics Hall of Fame
Published on April 5, 2019 under Alumni, Athletics, Foundation, General News
---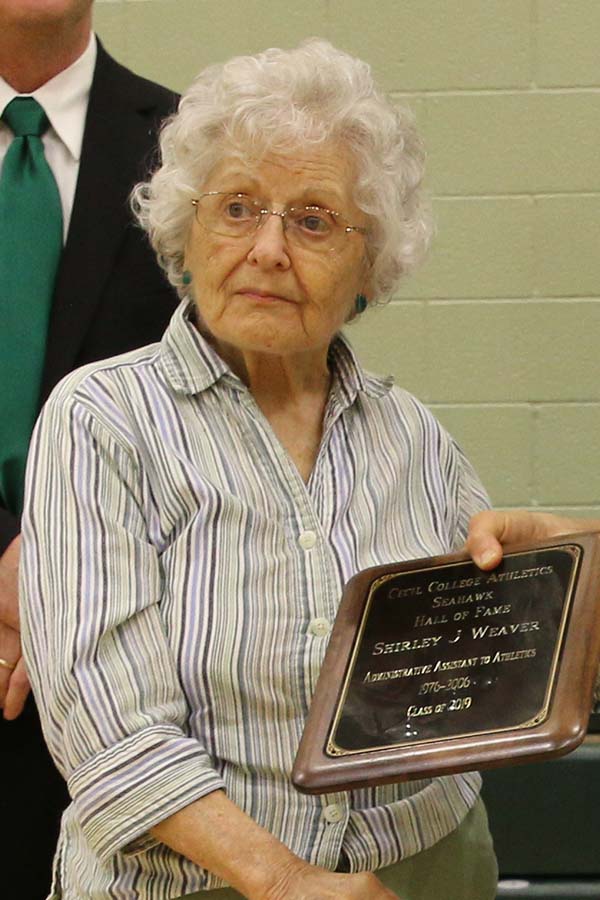 NORTH EAST, Md. – For more than 30 years, Shirley Weaver was the glue that held many of the departments together at Cecil College. For the second half of her career, it was the Cecil College Athletics Department benefiting from her dedication and tenacity for details.
With this level of commitment to the Seahawks' program, it is no wonder she was elected as a member of the inaugural Cecil College Athletics Hall of Fame inductees class.
She was joined in the Class of 2019 by legendary baseball coach Charles "Dick" Brockell (posthumously); Cecil College's winningest men's basketball coach William Lewit; former Cecil College Board of Trustee member and executive director of the College Foundation Mary Maloney; former women's volleyball and basketball coach Mary Etta Reedy; former men's soccer coach, student-athlete advisor and mentor Dr. Thomas Topping; and former assistant athletics director Thomas Wilhide.
"There were so many things Shirley did, I couldn't tell you. She made sure all the details were taken care of for games, practices, recruiting, she tracked academic eligibility and monitored academic progress. She was so much more than our administrative assistant to the athletics department. She was our MVP," said Cecil College Athletics Director Ed Durham.
Weaver was dedicated to the student-athletes and handled all the administrative duties in the athletics department including arranging travel for all contests, and at times, even washing dirty uniforms. She attended every home athletics contest. Even after retiring in 2006 from Cecil College, she could be heard cheering from the bleachers.