Wilhide provided the advocacy for athletics
Published on April 5, 2019 under Alumni, Athletics, Foundation, General News
---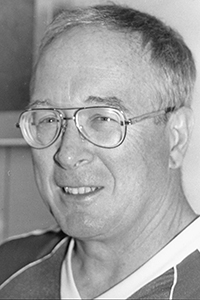 NORTH EAST, Md. – While players and coaches grab the headlines, the foundation of a successful athletics program depends heavily on support staff. For more than 27 years, Cecil Community College's student-athletes were kept on track academically by George "Tom" Wilhide.
Wilhide's dedication and commitment to the academic success of student-athletes earned him recognition and respect among his peers. This commitment earned him a place in the Class of 2019 Cecil College Athletics Hall of Fame.
"Tom spent his entire time at Cecil Community College tirelessly advocating for student-athletes. He handled all the student-athlete advising, helping them set their class schedule and ensuring they remained academically eligible," said Cecil College Athletics Director Ed Durham.
Wilhide, who was unable to attend the ceremony due to his health, was instrumental along with Dick Brockell in starting the academic monitoring system for student-athletes to ensure academic eligibility. During his tenure, Wilhide volunteered to pitch in wherever needed.
He was joined in the inaugural class of inductees by legendary baseball coach Charles "Dick" Brockell (posthumously); Cecil College's winningest men's basketball coach William Lewit; former Cecil College Board of Trustee member and executive director of the College Foundation Mary Maloney; former women's volleyball and basketball coach Mary Etta Reedy; former men's soccer coach, student-athlete advisor and mentor Dr. Thomas Topping; and longtime administrative assistant Shirley Weaver.
Wilhide was an advocate for student-athletes in the classroom. If a student-athlete was struggling in a course, he refused to let that student give up and made every effort to ensure the student-athlete received the necessary help to be successful. In 27 years as an employee of Cecil Community College, Wilhide never missed a single day of work.
"There were times when we would come back from a road game and pull into the parking lot late at night. There would be a light on in Tom's office, and we would find him in there working on a student's schedule," said Durham. "He was always there to help whether that meant driving a van to get a team to the game or simply volunteering his time at home contests with other staff members."
Wilhide worked at Cecil from 1972 until his retirement in 1999. He eventually became the assistant athletics director and remained an advocate for students, an advocate for the college, and made sure to take care of everyone who crossed his path.