Williams named Executive Director of Human Resources
Published on February 28, 2022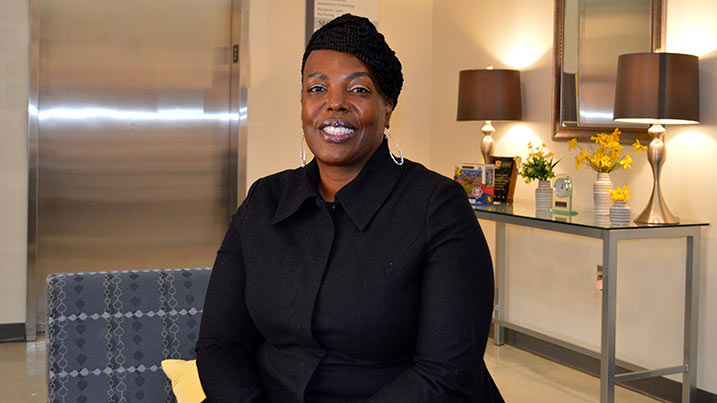 ---
NORTH EAST, Md. – Following an extensive search, Cecil College is pleased to announce that Michelle Williams was named Executive Director for the Human Resources Office.
"Getting to be part of a team that is so engaging and focused on student success is an incredible opportunity. Everyone I have met, from long-term employees to new hires, is so excited to be a part of the College and passionate about the students and the surrounding community," said Williams, who officially took the position on February 14.
As Executive Director of Human Resources, Williams is responsible for providing strategic leadership and management for all aspects of human resources across the institution. She will be a member of Cecil College President Mary Way Bolt's executive team, working collaboratively to develop strategic programs and innovative practices in support of the College's mission and long-term strategic goals.
"We are beginning a new year where Covid-19 is finally diminishing to a point where we can get to a new normal. Life as we knew it is never going to be the norm because of the pandemic, but education and healthcare are adjusting to this new normal," said Williams. "It is important for employees to view human resources as a place they want to come, not a place they have to come. That means getting out and about to be visible on campus."
Williams comes to Cecil College from the non-profit Humanim Inc. in Baltimore. She was director of human resources and responsible for strategic oversight of all Human Resources functions, including employee relations, compensation, benefits, recruiting, organizational development, policy development, training, and payroll. She has already formulated plans to promote a high-performing, positive, diverse, and productive culture with the goals of maintaining high levels of employee effectiveness and morale while fostering an inclusive and collegial environment.
She also has experience in higher education, having served seven years as executive director of human resources at Baltimore City Community College.
"Students are everything to me, and their education has always been a priority. While human resources does not interact directly with students, our role is to provide professional development, resources, and services to the individuals who impact students. It is a team approach," said Williams. "It makes a world of difference in the workplace when you have leadership demonstrating a belief in their employees. We must support our employees and care for our employees and ensure they are okay, particularly during the pandemic."
The Executive Director's role at Cecil College is to foster innovative and creative problem-solving initiatives through listening and communicating with the College community.
Williams earned her Bachelor of Science in Business Administration from Sojourner-Douglass College before completing her Master's degree in Human Resource Management from Towson University. She also holds an Advanced Management Certification.
Williams is a published author and released "The Color of Pretty" in April 2021. The book reflects upon growing up as an African-American girl in a family where she had troubles with insecurity and lack of confidence at a very young age. A native of Baltimore City, Williams resides in the Whitemarsh region of Baltimore County.