Yoder to play for Liberty University
Published on August 16, 2018 under Alumni, Athletics, Foundation, General News, Student Life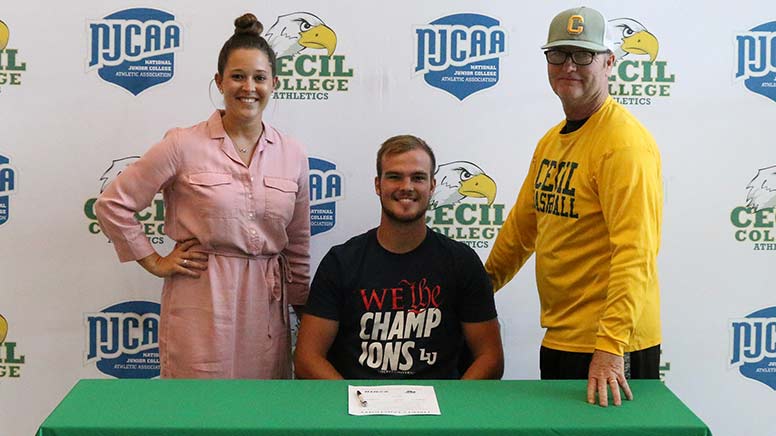 Jordan Yoder is pictured with Assistant Director of Athletics and Sports Information, Brooke Fisher; and head baseball coach, Charlie O'Brien.
---
NORTH EAST, Md. – The train continues to roll for Cecil College alumnus Jordan Yoder as the sophomore outfielder signed a letter of intent to play baseball at Liberty University for the 2019 season.
Yoder graduated with an Associate degree in General Studies from Cecil College in May. He plans to study Marketing Analytics at Liberty University.
The Lancaster, Pa., native was the Seahawks' lone first-team selection on the NJCAA All-Region XX DII team and a Golden Glove nominee.
Yoder, who graduated from Conestoga Valley High School, finished his second season with a .359 batting average for a .451 on-base average. In 103 at-bats, he tallied 37 hits of which 14 were for extra bases. He also connected for four home runs, scored 33 times, and finished with 18 RBIs. In the field, Yoder completed his career with a perfect fielding percentage on 64 total chances.
Liberty University is a four-year NCAA  Division I institution located in Lynchburg, Va., that competes in the Big South Conference. Last year the Flames posted an overall record of 32-26 and 17-10 in the conference. The Flames ended their 2018 season with a 4-6 loss to No. 1 seed Campbell University in the Big South Baseball Championship.