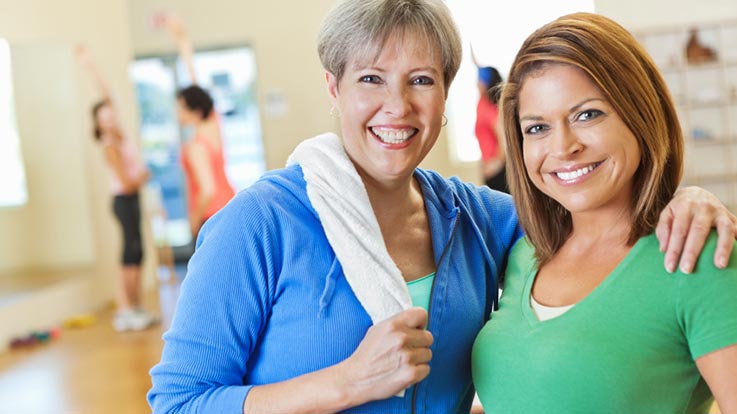 If you are like most adults, you are so caught up in other obligations that you never take time for your own needs. It is time to put yourself first and do something you will truly enjoy.
Personal Enrichment for Adults & Seniors
Whether you are looking for a class to expand your learning or just for fun, we have what you are looking for.
The Arts
All art classes are designed for both beginners and advanced.
Visual Arts include classes such as painting (acrylics, watercolor, and oil), ceramics (sculpting, wheel throwing, and Japanese Raku), drawing, graphic design, mixed media, portfolio production, and photography (on location, portfolio and in studio).
Performing Arts include music (guitar, piano, and individualized lesson on all instruments), dance (all ballroom styles), and ballet.
Healthy Living
Fitness classes include hatha yoga, SHiNE dance fitness, Pilates fusion, 30-minute circuit, cardio stretch, body movement, Tai Chi and Qigong, and Pathways to Wellness for older adults.
Dance classes include beginner ballet, beginner tap, dance sport, international folk, SharQui, and social dance.
Holistic classes include but are not limited essential oils, herbal remedies, green cleaning and living, living Reiki, crystals, energy abilities and much more.
Healthy Living classes include Living with Diabetes, infant massage, emotional wellness and more.
Hobbies
Creative Craft workshops include Floral and Nature décor and designs for holidays and seasons (Home Floral Design, Pine Cone Wreath, Gifts from the Garden), and Steampunk Foil Art workshops for seasons and holidays (Steampunkins, Steampunk ornaments and owls).
Glass/Jewelry Design classes include basic jewelry, glass fusing, crochet wire beaded jewelry, sea glass necklaces, and stained glass studio.
Quilting and Sewing classes include beginner sewing classes and machine quilting with top-of-the-line machines.
Boating and Boater Safety classes include piloting, docking, navigation, Maryland Basic Boating Course, antique canoe repair and restoration, model ship building, and wooden boat building, repair and restoration.
Humanities
History classes include local history (including adjacent counties and states), tours of local site and establishments, historical markers, American history, foreign history, religion, and genealogy classes.
Language classes include French, German, Italian, Russian, Spanish, Chinese, American Sign Language, and foreign culture courses.
Literature and Writing classes include writing your first book, writing a memoir or novel, marketing and publishing your book, expressions of poetry, and researching great films and literature.
Science & Technology
Computer classes include introduction to the personal computer, Microsoft Windows, Microsoft Word and Excel, Adobe Photoshop and Illustration, audio and video applications using Windows, internet and email using Windows, and protecting your computer.
Individualized Classes
If you would like to learn something new, expand on your own knowledge, develop knew art skills or techniques, or really would like to take one of the classes we offer but just don't have the time, we are offering a new course option for you to enjoy those same classes with the instructor on your own time! This is a great opportunity for anyone wishing to that one class they always wanted to but were limited on time.
Senior Network
If you are age 60 or better, you have the choice to sign up for classes inside and outside of our Senior Network.
MD Residents 60+ qualify for tuition waiver on eligible classes. Be sure to check for those classes that are clear marked for the waiver.
Or, you can join the Senior Network and enjoy tuition waiver and even more reduced course fees. Membership fees are dependent on where you reside:

$70.00 per semester for in county residents
$80.00 per semester for out of county residents
$90.00 per semester for out of state residents

If you plan to take 5 or more classes per term, your best deal may be to join the Senior Network.