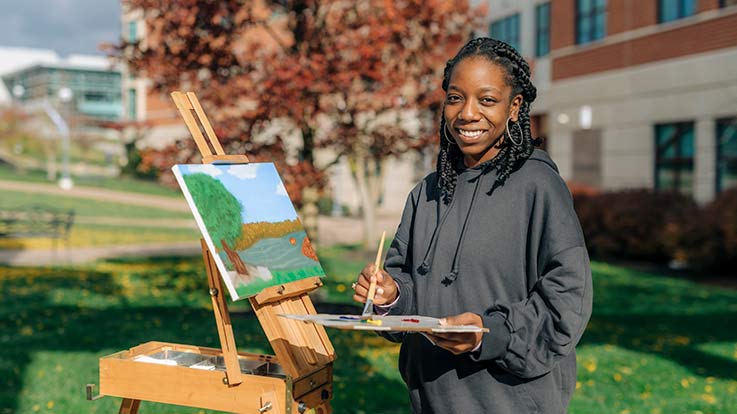 The Office of Student Leadership and Inclusion is devoted to enriching the lives of all students by focusing on diversity, inclusion, equity, academic assistance, scholarships, leadership training, and community service. Please be sure to visit Cecil United for more information!
Scholarships
The Cecil College Foundation is the parent organization for students seeking need-based and merit scholarships. The Office of Student Leadership and Inclusion assist with raising funds for:
In addition, Cecil College is privileged to receive scholarship support from the Alpha Phi Alpha Fraternity, Inc. The Iota Alpha Lambda Chapter awards a full tuition scholarship to one male underrepresented student per academic year. Students also receive full funding for textbooks.
In 2020, the Cecil Pride Scholarship was added to the list of available scholarships through the Cecil College Foundation. The purpose of this scholarship is to support a Cecil College student who identifies as LGBTQ+, with preference given to a student who is also a Cecil County resident enrolled in a STEM program of study. The scholarship provides $1000 to a student, and the student must maintain a 3.0 GPA. Students must apply through the Cecil College Foundation.
The Cecil County Branch of the National Association for the Advancement of Colored People (NAACP) is committed to promoting higher education to Cecil County students. The Branch provides a $500.00 education award and a one-year NAACP Youth Membership to a deserving student. Students should contact their high school Guidance Counselor to learn more or receive an application.
Peer-to-Peer Mentorship Program
Cecil College offers a Peer-to-Peer Mentorship program for all underrepresented students (Black/African American, Asian, Hispanic/Latino, Native American, Native Hawaiian or Other Pacific Islanders, and Military-Related students). New Cecil College students are paired with more seasoned students to assist them in finding academic resources to help them succeed.
New and returning students interested in the Peer-to-Peer Mentorship Program should contact the Student Life Office to be paired with a mentor or to apply to be a mentor.
Students are also encouraged to attend Student Success Workshops. These range in topics from Time Management Skills, Understanding a Syllabus, Breaking Down the Grade with a Math Professor, Understanding Satisfactory Academic Progress, Learning Memory Tips, Financial Literacy with the Aberdeen Proving Ground Federal Credit Union (APGFCU), Q&A's with High Achieving Students, and How to Cope with Test Anxiety.
The Advising Office, Career Services Office, and the Accessibility Services Office also facilitate additional workshops such as Degree Pathways, Resume Writing, and Mental Health.
Leadership Conferences and Events
Underrepresented students are highly encouraged to attend at least one leadership conference or event each semester. Participation and exposure to networking with other Cecil College students, faculty, staff, and community stakeholders are essential and vital to student's academic and professional success. Conferences attended in the past include but are not limited to:
West Chester University Latina/o Communities Conference (September)
Male Students of Color Conference at Montgomery College (October)
Student Leadership Conference (October)
The National Association for the Advancement of Colored People (NAACP) Banquet (November)
Community College Student Advocacy Day in Annapolis (February)
The Alpha Phi Alpha Fraternity Inc. Scholarship Banquet (March)
Cecil Leadership Institute (March)
Female Students of Color Conference at Chesapeake Community College (April)
Cecil International Affinity Organization (CIAO)
Open to all Cecil College students, the Cecil International Affinity Organization is dedicated to increasing global awareness. CIAO organizes programs emphasizing cross-cultural understanding and appreciation.
Club members meet to discuss global issues, a student's country of origin if they are international students, or if their families have strong ties to their native countries.
Students also meet to teach other students about cultural differences around the world and learn to embrace the differences and similarities they share.
Multicultural Student Union (MSU)
Open to all Cecil College students, the Multicultural Student Union sponsors annual celebrations and values diversity in social, cultural, educational, and volunteer activities. The club assists in the planning and coordinating of multicultural programs and activities, such as:
Hispanic Heritage, Native America Heritage, Holidays Around the World, Black/African American Heritage, Dr. Martin Luther King Jr. Celebration, Irish Heritage, Asian Heritage, Women's Heritage, LGBTQ+ Pride Month, and others.
Monthly Heritage Library displays with books, films, and other cultural resources.
LGBTQ+ Resources
Cecil College Student Life offers a comprehensive list of resources/available support for LGBTQ+ students both on campus and at local, regional, and national levels. In addition to resources, Cecil College also provides gender-neutral restrooms on our North East and Elkton Station campuses.
Seahawk Pride Club
Open to all Cecil College students, the Seahawk Pride Club is a student group for LGBTQ+ students. It is a social, support, and solidarity group that meets once every two weeks. Activities include discussions, speakers, film screenings, mentoring, campus activism, and field trips.
For more information, please contact Student Life at studentlife@nullcecil.edu.
Reporting Discrimination, Harassment, or Hate Crimes on Campus
To file a hate crime report, students should call or visit Cecil College Public Safety.
North East campus, call (410) 287-1601 or visit room D205 in the Technology Center (Bldg. D)
Elkton Station campus, call (410) 287-1602 or visit room 114.