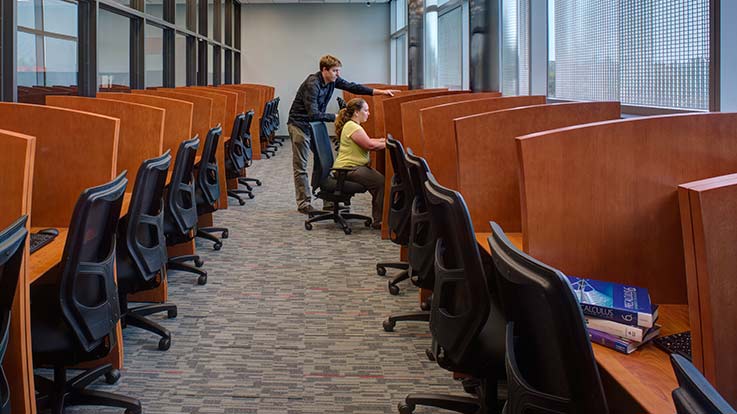 The Testing Center administers skills assessments and certifications through Pearson VUE. Walk-ins are welcome; no appointment is necessary. You must present a valid I.D. and know your social security number. Supplies such as a calculator, pencil, and scratch paper are provided as needed.
Skills Assessment
All students entering Cecil College are evaluated for placement purposes. Skills assessments are used to determine at what level a student begins their academic coursework. Mathematics and writing are assessed—a student may need to take one, or both, of the assessments. Each individual assessment usually takes approximately an hour. We recommend that students read all instructions carefully prior to taking their assessments. Both assessments can be completed online. We encourage students to study and complete the sample questions for math prior to taking the math assessment and review the English Placement Essay Writing Tips prior to taking the writing assessment.
Skills Assessment Waivers
Students may qualify for a skills assessment exemption. Exemptions may be granted when:
a student has earned an associate's, bachelor's, master's, or doctoral degree from an accredited institution;
a student has a qualifying score on the SAT or ACT in the academic discipline; or
a student has successfully completed parallel coursework at another accredited institution of higher education.
Starting your coursework at college level advances your pathway through Cecil College. Focus on the importance of the skills assessments and prepare to do your best.
Location & Hours
The Testing Center is located on the North East Campus in the Engineering and Math Building (Building G), Room 310, and is open during the following hours:
| Days | Hours |
| --- | --- |
| Monday–Thursday | 9:00 am – 9:00 pm |
| Friday–Saturday | 10:00 am – 4:00 pm |