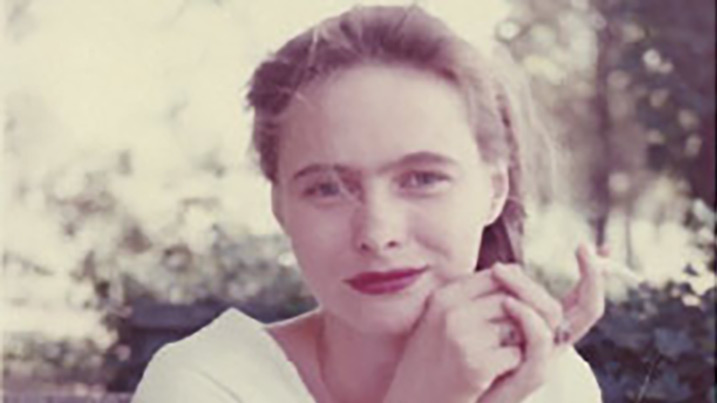 Ingrid Cromel Rehert: Observations on Life
Opening Reception: March 10, 2023, 6–8 pm
Exhibit Dates: March 10 – May 9, 2023
Location: Milburn Stone Gallery
This exhibition is a memorial to beloved sister, amazing teacher, and prolific artist, Ingrid Cromel Rehert. She was known to always be observing; from her birthplace in Estonia off the Baltic Sea to her eventual homes in Port Deposit and Baltimore, she took inspiration from everything around her.
To enjoy the exhibit, stop by the Milburn Stone Gallery during the following hours: Tuesday and Thursday, 10 am – 2 pm, Wednesday and Friday 12 pm – 4 pm, and three hours prior to Milburn Stone Theatre showtimes.
For more information, please email cecilcollegeart@nullcecil.edu.
Ingrid Cromel Rehert
"Titta"
By
Stefan R. Zucker
---
There is an old family farm in Maryland where I spend a lot of time by myself and where my memories go back almost 70 years. The farm still has the physical contours of its 200 year old history; a house that was constructed of logs, a stone and wood sided barn, fields bounded by stone walls, a stream that cuts through the lower field before it descends to the Susquehanna River, woods that contain tall oaks and poplars over a hundred years old, and a pond that was added in the 1960's. Every inch of the 58 acres is familiar to me and is associated with vivid memories, some good and some bad. When I walk the fields or when I enter the barn and, especially when I lie in bed in the house I am occupied with intense feelings, cloudy emanations, perhaps even ghosts associated with what I had experienced there over the course of my lifetime. There is much to process in my reflections; the cows that had to be milked twice a day, the strange people who came to visit, the hot summer days when we brought in the hay, the taste of tomatoes and radishes from the garden, the thick layer of flies stuck to the sticky ribbons hanging from the ceiling in the house and in the milking barn, even the terror I felt one night when I walked up a pitch black lane from a neighbor's house. Everywhere I look I see my childhood played back to me as if I were watching it in a movie theater. Everywhere I see my family occupied in different ways; my mother picking berries in the woods, my sister, Christine, with her face buried in a book, my brother-in-law, Ike, dressed only in his boxer shorts sweating as he wrestles with the jammed mower, and everywhere my older sister, Titta. She may be in the kitchen canning beans from the garden, or down by the chicken house strewing feed for the chickens and other fowl, lying in the grass looking for four-leaf clovers, and most vividly in her studio working on a painting. Everything about the farm is associated with her.
"Titta" was my half-sister via my mother's first marriage. She was 14 years older than me. When I was a kid, she seemed to belong to the world of adults rather than that of a sibling. She seemed to me to have had authority and privileges, but also the conflicts and pain, that seemed to be experienced by grown-ups. As a child she demonstrated a talent and appreciation for art. Art became her life-time passion and profession. She had enormous talent and considerable ambition, but like so many others with those qualities she did not receive the accolades, nor the earnings that she had hoped for. Titta led an eventful, complicated life that rarely rewarded her with a lasting joy, let alone satisfaction. Yet, her influence on others was profound. She was a natural born teacher, helping those who knew her to see the world infused with fascination and mystery. Her vision was of a world in constant motion with intense sensations. It was exhausting and painful and often wounded her. She died after a prolonged illness at the age of 69 in 2001 and left Christine and me a haunting legacy.
Titta was her nickname; her given name was Ingrid, to which she added Cromel Rehert when she signed her work to note her father's and, after she was married, her husband's names. My mother said that "titta" was an affectionate term that means "little girl" in Estonian and so that name stuck within our family. In Swedish "titta" sometimes is used as a verb that means "to look" or "to observe". The former definition describes a person who desperately sought the affection throughout her life that a young girl ought to have experienced. The latter perfectly characterizes the great talent that Titta had and that she communicated to those of us who were intrigued by her art and the appreciation for life that she expressed in so many ways.
Titta's early life placed her on the edge of cultural and political upheavals that made for a traumatic development. She was born into her mother's Baltic German family in Estonia in 1932 during the brief period (1919–1942) when the country was independent. Her mother's family, the von Stackelbergs, were aristocratic landowners who havegenealogical records going back some 700 years to the Baltic region. Culturally they were German and intermarried exclusively with families like their own. Her father, Herman Cromel, had a background that is more nebulous than her mother's. He stemmed from Sweden, was educated in St. Petersburg and became a prosperous lawyer and businessman in Estonia. Cromel had complicated business dealings with companies and governments that eventually led to his arrest by the Soviet secret police in 1942. Although Herman was close to the von Stackelberg family, having served as a tutor to Titta's uncle, Andre, and having negotiated a restitution payment for our grandfather, Konstantin von Stackelberg. Much of our grandfather's property, called Fegefeuer (literally meaning "purgatory"), had been confiscated during peasant uprisings in the early part of the century (1905, 1917). By the 1940's Cromel was negotiating arms sales between Germany and Estonia, presumably to shore up the country's defenses against the invading Soviet army. According to secret records that have recently been made available for public review, Cromel was turned into a double agent by the NKVD (secret police—forerunner of the KGB) and sent to Berlin to send information back to Soviet authorities. We don't know what information he was to gather and send back to his operatives, but it's likely that he had contacts that could inform him about the condition of German armaments and munitions. We know nothing further about his life. His NKVD file states that he died in 1944, before the end of the war, so perhaps his cover was blown, and he was executed.
The relationship between Titta's mother, Emmeline (Emily) Annette von Stackelberg, and Cromel was hardly conducive for raising a happy, well adjusted child. It had been an arranged marriage that was forced on Emily who had a rebellious spirit and was engaged in relationships that the family saw as unseemly. Although Cromel bought Emily an estate and built a grand neo classical manor house, he was not much of a presence with either his wife or daughter. Although Emily had privileged surroundings and servants, she was not prepared to nurse and raise a child. She was still full of youthful vigor and had a zest for adventure. Being tied down with a baby did not fit with the lifestyle that she aspired to. Emily and Cromel separated and she met and married my father, Wolfgang Zucker—a Doctor of Philosophy who had fled Germany when the Nazis came to power. She was enchanted by this erudite, half Jewish man, who had lived a life of glamor and excitement in the cosmopolitan city of Berlin during the Weimar years between the world wars. Titta never forgave our mother for having abandoned and divorced her father. I don't think she had a clear or endearing memory of Herman Cromel. She never mentioned him to me. Neither Christine, nor her former husband, Isaac, recall her saying much of anything about him. Still, it seems that she had a feeling of loss about her father. I have found an undated postcard sent to her by Cromel that says simply that he was sorry that business had taken him far from home, but that he very much looked forward to seeing her again soon. Titta was 8 years old when her mother remarried. It must have been traumatic to be transplanted into a new life and a new family.
It was about this age that Titta suddenly found herself completely uprooted from family and community. And then came the period when she disappeared after being sent to her aunt and uncle's estate in Poland. The sketchy story, as we understand it, is that Emily sent her to her sister, whose family had previously fled to Poland. The child was placed into the care of a family that was emigrating to the West along with other Baltic Germans who were being resettled in Poland by German authorities. Emily decided to stay in Estonia with her new husband. At that time, she might also have been pregnant with her second daughter, Christine. Estonia was under threat of being overtaken once again by the Russians. The family that had been entrusted to take Titta to her resettled relatives never fulfilled their mission. They somehow either lost or dispossessed her. For a period of time Titta was living as a street child scavenging for food and shelter until she was found by authorities and finally brought to her aunt's home. That home was an estate that had been confiscated from its Polish owners who were probably imprisoned and killed for alleged resistance to the German invasion. "Lubasch" was the name of the estate and was one of many former Polish estates that were occupied by the former Estonian Germans after the invasion. Titta could not adjust to living with her aunt and uncle and their three children. One of those children is our cousin, Enno, who lives now in Vienna. She is about the same age as Titta would now be, in her mid 90's. She remembers when Titta came to Lubasch and how withdrawn and unhappy she was living with them. She was estranged from her father, her mother and her country. She was adrift in a world at war, of people uprooted from their homelands, of places that had been cleansed of their original populations, among people whose allegiances were tied to oppressive regimes, a world in which nobody could trust anybody else. It is no wonder that Titta suffered all her life from extreme insecurity.
Eventually she was reunited with her mother when Emily too had to flee from her country with Christine. The three women reunited with Wolfgang in Berlin towards the end of the war while the city was being bombed nightly by allied aircraft. The family moved to the relative safety of the Bavarian Alps where they witnessed the final defeat of the German army, the occupation by American troops and their resettlement along with millions of refugees from the eastern European countries into camps for reprocessing. The Zuckers were interned into a UNRRA (United Nations Relief and Rehabilitation Administration) camp for refugees from Lithuania, Latvia and Estonia. It offered regular meals and some much-needed stability that allowed Titta to attend an art school in the city of Augsburg. It was also the place where I was born and spent my first three years.
My sister, Titta, never had children of her own, perhaps owing to her debilitating insecurity about relationships and what she perceived as the fragility of human life. Or perhaps it was because our mother had inculcated in her the idea that she should live for art above all else—that having children would interfere with the career that was destined to define her. Our mother did not want her daughter to succumb to the situation she herself had been in as a young woman. Emily was very dismayed when Titta announced that she had gotten married to "Ike" (Isaac Rehert). She was only 20 years old. But she and Ike bought a old dairy farm in Port Deposit. It would provide our mother, Christine and me the opportunity to spend our school vacations there, especially during the long summer holiday. Together Titta and Emily ran the household at the farm and to some extent were able to recreate their lives in rural Estonia through their cooking, caring for the garden and animals, walks across the fields, and by entertaining guests.
At times Titta and my mother merged in my perception into different aspects of the same person. Their voices were similar, and they never had their German accents diluted when they spoke English. Each of them often frightened me with unpredictable eruptions of anger and aggression. On the other hand, both my mother and Titta were also capable of entertaining me with stories and games. We played Monopoly and other games of chance and quest on long summer days on the living room floor of the old farmhouse. I was a slow learner in school (maybe there was some language interference) and they helped me become fluent in English by reading to me. I remember how Titta when I was 7 or 8 years old read to me night after night from an abridged, beautifully illustrated version of Robinson Crusoe.
Port Deposit, where the farm is located, is a small town near the mouth of the Susquehanna River where it soon spills into the Chesapeake Bay in the northeastern corner of Maryland. In 1949 when my family arrived there from Germany the town was bustling with activity. Nearby was a naval training base that housed over 20,000 sailors. (It had been constructed to support the war effort during the previous decade and was still maintaining activity because of the Korean War) This river town retained much of its 19th Century character with classic architecture enhanced by the nearby granite quarries that once supplied stone for the public buildings and some private residences in "Port". There was one principal street that lay between a cliff to the east and the river on its western side. Next to the river ran a busy freight railroad track, so the homes along Main Street were literally squeezed into place by the narrow dimensions of the town. A number of stately churches, constructed of granite, lined the street along with a half dozen bars and a couple of shops that were characteristic of small towns all over America during that era; a bank, a grocery store, drug store, a small hotel, hardware store, a general store, two gas stations, and a movie house. The houses that lined Main Street featured long porches with wooden trim or iron grillwork that gave it a distinct Southern character. Today the town of Port Deposit clings to its geographic location and to its memories of the past. The closure of the naval base, and then the ship building yards that succeeded the base, killed most of the economy of the town. Bars and restaurants now serve mostly weekend boaters and motorcyclists that find its location convenient and amiable for drinking and dining. But there are no longer any stores or other places of commerce.
Titta set to work as soon as we settled into Port Deposit to depict in oil and other media the physical character of the town including its inhabitants from its leading citizens to the hard scrapple poor farmers and the desperately impoverished African Americans who lived on the segregated outskirts of town. Her paintings from the 1950's and 60's exhibit a strong influence of impressionism and also of the so-called "Ashcan" school of American art. They are rich in texture, stark in their realism and imbued with dark and somber color. The base for her work was the farm where she and Ike lived a bohemian lifestyle that included a dairy business, a menagerie of chickens, ducks, geese, guinea hens, stray dogs, cats, and, of course, dozens of cows, heifers and calves. Every animal had a name and each received the kind of loving attention usually reserved for children. From time to time pigs and horses were also boarded there. The doors to the two-hundred-year-old farmhouse were usually open and allowed the smaller animals to come and go as they pleased. An extensive garden that looked haphazardly organized produced an amazing yield and variety of vegetables, fruit and flowers. The grounds near the house featured exotic fruit trees and berry bushes. In my memory the house was always filled with people, including long-term inhabitants, like my family and resident helpers, or casual visitors who came from cities, like Baltimore, Washington and New York, to take in the aesthetic beauty of both the natural and cultivated environment. There were also frequent visits from neighbors who found it beguiling to talk to this exotic couple and watch them work. But the reality was that for most of the year Ike and Titta were alone when each of them was engaged in very challenging work. Ike was managing the dairy business, and later he taught in the town's high school, before becoming a newspaper columnist. Titta was managing the house, caring for animals and the garden, and, of course, doing her artwork. There was also time, perhaps too much time, to preserve the idyllic atmosphere that I remember, when the couple had to contend with personal demons within themselves and in each other. When there was no company Ike and Titta were often were locked in intense and painful conflict.
Titta depicted the farm in a variety of ways. She made numerous oil and pastel pictures of the old house and barn, depicted in a quiet, muted mood. These and other landscapes were usually done with grey, overcast skies and often with snow covering. Trees are usually bare; bushes have lost their foliage and stalks of grass are mere isolated projections in the ground. There is a distinct feeling of decay, even death, about the place, devoid of bright colors and life. Animals, on the other hand, are anything but static. Titta imbued them with strong colors and swirling lines. Cock fights were a favorite motif in which the lines between the cocks and their movement blur into action that bring to mind Jackson Pollock drip canvases. As Titta's style evolved it turned more and more towards abstraction. She became intrigued by the works of abstract expressionists and their attention to process and form. She experimented with acrylic paint that she pored onto canvases by the gallon and rolled around to form brightly colored curvular shapes. She worked on a large scale with paintings that were 4 by 6-foot canvases or even bigger. She eschewed framing these works because she felt that frames were too confining for the energy and movement she was trying to capture.
In her mature years Titta became intrigued by the medium of paper, both as a surface to draw on and as a form of sculpture that could be hung, cut into curious shapes, and molded into conical or cylindrical forms. This interest coincided with her moving to Baltimore where she would be in touch with the art scene there and in Washington. In Baltimore she also decided to attend The Maryland Institute where she eventually received a degree in Fine Arts. Her attention shifted away from the natural setting of the country to the industrial imprint of the city environment. As her stature grew through acquaintances with artists and intellectuals and through gallery shows in the two cities, her work became more ambitious. She used paper as a surface for meticulous and painfully precise striations with graphite with some subtle variations in thickness and shades of grey or black. Some of these works consisted of large sheets covered with graphite striations and overlaid with additional layers of similar lines, with cookie-cutter-like excisions that added depth and playfulness to the presentation. Eventually these penciled paper works evolved into a similar technique done on metal sheets instead of paper. This sheeting could be twisted and mounted onto boards forming more permanent sculptures that could hang on flat walls. A similar effect was achieved by applying thick layers of oil paint on large canvases and achieving the striped effect by using a stiff brush or broom to create lines through the thick overlay of black and grey paint. Every now and then a layer would split open to reveal an underlying strip of red, orange or yellow color.
Titta's artworks grew in size and complexity as her personal troubles mounted. While life in the townhouse that she and Ike bought in the Druid Hill section of Baltimore brought modest recognition and adulation from art critics and fellow artists, it also brought added stress. In addition to doing her art and preparing for shows, she had an active social life, cared for the house, cooked, taught classes and attended school. Relations with her husband deteriorated as she began to drink heavily, and he escaped to his work as a columnist for the Baltimore Sun and to various self-help programs. Eventually Titta and Ike separated and divorced. She was in her 50's, suddenly on her own in a big house, with deteriorating health issues (including vision impairment), and pressure to produce new artwork in order to earn money and enhance her reputation. At times the strain became too much and she broke down. Perhaps the low point came when our mother, Emily, died. That event was followed shortly by my father's death. Titta fell into despair and heavier drinking.
But even at her lowest points she continued to produce art works that became increasingly elaborate, defining a unique style. She was fascinated with discarded manufactured materials and used them to create colorful, playful objects.
She used strips of colored plastic to make large pinwheel shaped boards that an electric motor spun to make the colors blend into hypnotic whirls.
She produced a tryptich consisting of three 4 x 6-foot panels that had pasted drawings of medieval and renaissance buildings, swirling angels, nudes and faces soaring above a fantasized town scene. The work had been inspired by a trip she took with me to Holland and Belgium when she felt she needed to refresh her surroundings with a return to a Europe that was no longer under the shadow of war. These reinvented countries highlighted their history with unprecedented preservation of ancient buildings and monuments.
She became fascinated by fish she would buy in the market and produced a series of works that culminated with a mobile of 16 12" x 24" panels of painted fish, each highlighted with silvery glitter to produce the effect of scales. The mobile hung in her house over a three-story staircase that moved every time the door opened, or a person swept up or down the staircase.
One of her last works was a room-sized installation that resembled a prehistoric cave with orange, tan and brown spreads of color interspersed with dark lines suggesting Neolithic stylized animals. On the floor was a canvas decorated with similar colors and shapes hiding an underlayer of bubble wrap that made popping noises as people walked over it.
After Titta died Christine and I with the help of our families went through the process of inventorying and disposing of our sister's possessions. This was a painful process, one that sooner or later every family experiences. A person accumulates an enormous amount of possessions over a lifetime and it is hard to simply give away or trash items that had so much meaning during that person's lifetime. Titta preserved a lot of her artwork in the basement of her house at Mt. Royal Terrace. She had carefully wrapped and bagged innumerable paintings, watercolors, paper sculptures and even sketchbooks and preliminary drawings for large works. What to do with such a volume of art that represents a person's life work? There was a lot to process and fortunately we had space to store these works at the farm where they are now. (Unfortunately, the barn is not an ideal climate zone to adequately preserve the works and many have deteriorated.) The house and barn are filled with her work from every period in her life. In addition, my wife and I have decorated our apartments in New York and Puerto Rico with her paintings, watercolors and drawings. Over the past 30 years that I have been managing the farm for Ike, I have been discovering Titta's works in the homes of numerous people in the Port Deposit and Cecil County area. Friends of the family and relatives in Europe also own pieces she created many years ago. I am constantly within view of artworks that remind me of her and the way that she looked at the world around her. Many of the pieces are decorative, like watercolors of flower arrangements. Others are images of the farm and townscapes of Port Deposit and Baltimore. The abstract canvases can be challenging to the viewer, but fascinating when one studies them. Portraits of people, like our mother, are rarely complimentary—they often highlight something forbidding or frightening about the subjects, an unnecessary glint in the eye, a curl of an upper lip, or a stiff looming posture of the sitter. Altogether, her artworks offer a unique perspective on life in all its complexity, its high and low points, they represent a lesson about life that's hard to explain, leaving the workings of the mind in a place of mystery and awe.
Although Titta left behind an impressive oeuvre that delights and challenges the viewer, the strongest impression I have of her is the way she taught people to look at living beings as well as inanimate things in the world. I think that her greatest legacy was as a teacher. I remember her art classes held at the farm and in her house in Baltimore. Her teaching was hardly direct and never judgemental. She created an atmosphere of aesthetic pleasure with music, quiet contemplation, tea and servings of her own rich crumbly apple pie. She taught also in schools, churches and senior centers. Many of her students attended classes for years and years. One group still meets every December around her birthday to remember and celebrate their friend and teacher. Titta enjoyed going to museums and galleries and her knowledge of artists, styles and movements was impressive. I accompanied her on many a visit, each of which she made into a special event that included a brief preview and a lunch or dinner afterwards. While I would stand and contemplate individual works, she would sweep through the galleries barely pausing to study specific items. But she took in what was important to her. After I finished going through a gallery, I would have to search around to find where she would be waiting for me. I would ask her why she went by so fast. Didn't she like what was on display? Invariably she would tell me, "But I saw what I needed to see." She thought of other people's art as either good or bad, never indifferent.
Titta approached her life much in the same way she did her art. She made an event or adventure out of mundane activities, such as dinnertime, rides in the old pickup truck, shopping at a farmer's market, or planting a garden. She devoted a lot of energy to entertaining people. Whenever I came for a visit, she planned a number of activities that would introduce me to people and places around the farm. She developed a plan and organized everyone around her to help carry out her vision. She woke me up one night at 2:00AM to come outside to observe a lunar eclipse at the farm. She had set a number of chairs out in an open space in the driveway. On a small table she placed some snacks and tea. We spent the next hour observing the shadow that slowly crept over the full moon until it was temporarily extinguished. We went back to bed in a dreamy state, feeling that we had seen something special.
Her art classes were not just teaching art, actually there was very little direct instruction. The classes were occasions for students to be immersed in an atmosphere of aesthetic observation and enjoyment. People entered her home and casually arranged their chairs, easels and canvases. Titta busied herself with preparing tea and apple pie or putting together an arrangement of flowers and objects to be used as a still life. She would occasionally walk around from student to student and make suggestions for the use of color or brush strokes, always adding a compliment.
When she got older and her physical and emotional troubles mounted, Titta threw her waning energies into planning parties. Easter was a particularly elaborate affair when 30 to 50 people would be invited to celebrate with a feast featuring a wide variety of traditional Russian fare as well as a number of dishes that she added to create a huge spread of cakes, fish, meats, breads, fruits and soups. She spent over a week preparing for such an event which would leave her exhausted, so much so that she hardly appeared while people were eating, drinking and mingling. The guest list included the high and low of society; artists, writers, and academics as well as the lonely, the poor and those for whom this was the only social gathering they would attend in that year.
When I was a child the farm offered me a rich environment in which I could learn about nature, caring for animals and learning how to use tools and machines. I was also diverted by my interaction with people from different cultural backgrounds, animals and landscapes. Outdoors I felt useful when I was helping Ike with the milking and the cultivation of the fields. In the female centered house, I felt awkward and dull. I was often sent outside to do errands and to do menial jobs to get me out of the way. My room under the second-floor roof was hot in the summer and unheated in the winter—not conducive to spending a lot of time there. Although I felt uncomfortable in the house without playmates and limited in the space I could occupy, it was filled with sounds, smells, and visual cues that spoke of the richness and complexity of our lives. There was always cooking and food preparation going on in the kitchen. The living room was occupied by plants of all sizes and colors and of animals, both in cages and running freely afoot. The art studio was filled with finished and unfinished canvases, easels, palates of color, scraps of material and art books left open to study. Upstairs and downstairs the rooms were filled with books and pictures. There were voices that expressed the cackle of mundane interaction and occasionally the high-pitched sounds of drama. Whispers about people and the things they did to and with each other (things I was not supposed to know about) wafted from different directions. There was so much going on and it all revolved around Titta, either directly or indirectly.
Today the house is more orderly and mostly quiet. It is occupied only during my visits although occasionally it will spring to life with visitors, parties and even the weddings of my two children. It is furnished mainly with the furniture and tchotchkes Titta had accumulated there or in Baltimore. Her paintings hang on every available wall space, her furniture fills all the rooms, her kitchenware (dishes, pots and pans, cutlery) are still used for cooking and eating at the farm. Her presence is always with me when I spend time in the house and on the grounds of the place that she shaped to her unique vision of life.