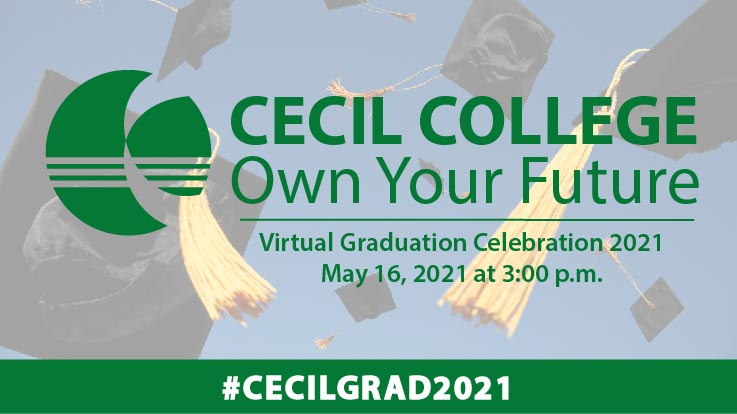 This page contains information for the following graduating classes:
December 2020
May 2021
August 2021
---
Watch our Virtual Graduation Celebration!
Celebration begins at 3:00 pm on Sunday, May 16, 2021. Visit cecil.edu/celebration to view the ceremony. On May 16, on that page, you will be able to view and download our Virtual Graduation Celebration Program to follow along with the sequence of events and save as a keepsake!
If you miss our celebration or would like to view it again, a recording of the presentation will be immediately available at cecil.edu/celebration for two weeks. It will then be permanently posted on our Cecil College YouTube channel. Enjoy, and congratulations!
Friends and Family Congratulatory Messages
Friends and Family

Join in the fun by posting congratulatory messages, photos, and videos on the Cecil College Graduation Celebration Facebook page in the weeks leading up to the May 16, 2021 virtual celebration, during the virtual celebration, or any time after!

Graduates

Post updates on your career plans as well as your own celebratory messages, photos and videos!
How to Post Messages
To post on our page, just follow these easy steps:
Visit the Cecil College Graduation Celebration Facebook page today!
Create a post (with or without a photo or video).
After you click "Post", your message will be visible in the "Visitor Posts" section on the right-hand side of the homepage and on the Community page. Your post will be shared to the main page by the College (there is nothing more you need to do). To view the Community page to confirm your post, click the Community link in the left-hand navigation section of the homepage (it appears right below the word "Home"). Note: On a cell phone, post from the homepage and click Community in the top navigation to view all posts.
If your message does not appear within a few minutes on the Community page, you may need to refresh the page to see it.
Check Back Often
Keep checking the page often for new posts. Congratulate, "like", share, and tag your graduate! Facebook is the preferred platform so that our celebration can be interactive. If you are not on Facebook, please have a friend or family member who is on Facebook post your congratulations message for you, or contact us at marketing@nullcecil.edu, and we will do our best to accommodate your request.
Graduation Filters, Stickers, and Profile Pictures for Social Media
Graduation Filters on Social Media
Cecil College has graduation filters on Facebook and Instagram—take a selfie, and post it to our Cecil College Graduation Celebration Facebook page with a post!
Facebook

Open your camera to take a picture and locate the filters under the Smile Filter icon.

Instagram

Go to the Cecil College profile and choose the Smile Filter icon. All of our filters will be available for you to try right there!
Having trouble finding the filters? Make sure your Apps are updated. Filters can also be found directly by clicking these links:
Graduation Stickers for Social Media
Celebrate your graduation using Cecil College GIPHY Stickers on Facebook, Instagram, or Snapchat Stories! To do so, follow the instructions below.
Facebook

Open the status box in your Facebook profile.
Click the GIF icon to search for and select a CecilCollege GIF from the GIF library.
Once the GIF is selected, the GIF will attach to your Facebook post.
Once you're finished with your post, click Share.

You can also use Cecil College GIFs in Facebook comments.

Instagram

From your Instagram Story, tap the sticker icon to add GIF stickers.
Tap on the GIF button and type CecilCollege in the search bar.
From there, you can add and layer as many GIF stickers to your Stories as you want

Snapchat

From your Snapchat Story, tap the sticker button on the Preview screen.
Tap on the GIF button and type CecilCollege in the search bar.
From there, you can add and layer as many GIF stickers as you want.
Graduation Frames for Social Media Profile Pictures
To add a Cecil College Graduation frame to your Facebook Profile picture:
Log into your Facebook account.
Click update on your profile picture and select "add frame".
Search for a frame by entering "Cecil College Class of 2021" or simply search the Cecil College page.
Choose the frame you want to use from the results.
Click "Use as Profile Picture".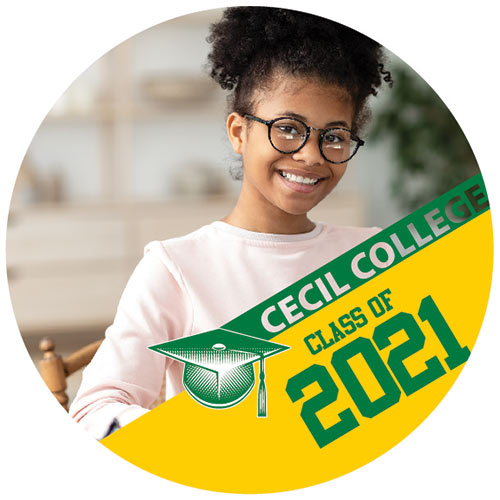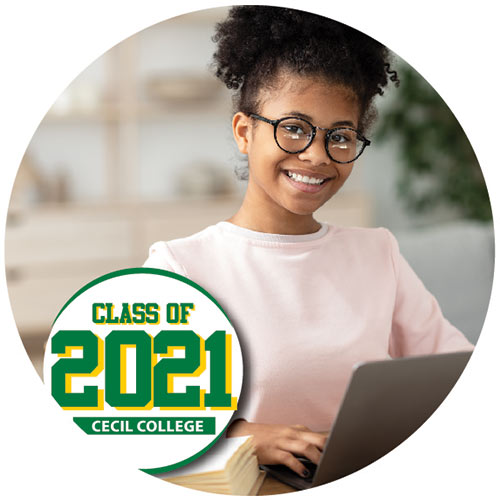 Graduation Caps and Gowns
Students will also have the opportunity to purchase their own caps and gowns through Oak Hall Cap & Gown. Prices are as follows:
| Item | Cost |
| --- | --- |
| Cap | $6.30 |
| Cap, Gown, and Tassel | $31.95 |
| Additional Tassel | $6.60 |
| Mask | $11.00 |
| Shipping | $11.00 + 6% Sales Tax |
In addition, diploma frames are available through Framing Success. Class rings are available through Herff Jones.
NOTE: Please place orders by May 1 to ensure receipt of cap/gown for the Virtual Graduation Celebration. As a result of shipping delays due to COVID-19, Oak Hall's customized website for students to order regalia will close on May 1st (at midnight) for orders arriving by the date of the Virtual Graduation Celebration. You do not need a cap and gown to attend our Virtual Graduation Celebration!
Alumni Association
Graduates, join our Alumni Association. Once a Seahawk, always a Seahawk! Stay in touch as you go forth and own your futures. There are many benefits to joining our Alumni Association. Sign up today!
Questions?
If you have any questions, please contact graduation@nullcecil.edu.