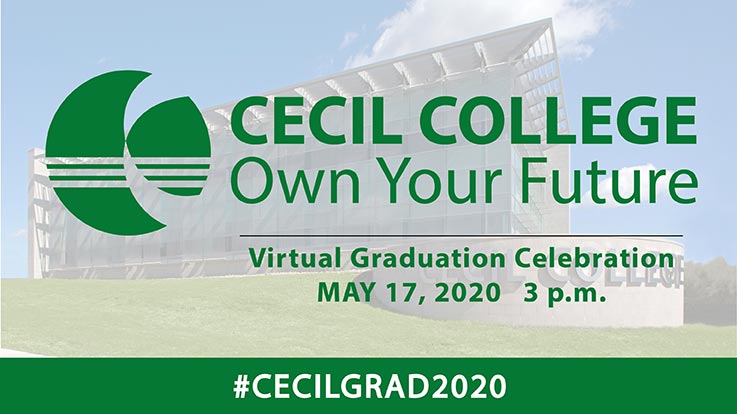 Watch our Virtual Graduation Celebration!
Celebration begins at 3:00 pm on Sunday, May 17, 2020. Visit cecil.edu/celebration to view the ceremony.
View and download our Virtual Graduation Celebration Program to follow along with the sequence of events and save as a keepsake!
If you miss our celebration or would like to view it again, a recording of the presentation will be immediately available at cecil.edu/celebration for two weeks. It will, then, be permanently posted on our Cecil College YouTube channel. In addition, graduate photos included in the celebration are posted on our Cecil College Flickr page. Enjoy, and congratulations!
In-Person Commencement
Graduates will be invited to attend the in-person commencement scheduled for May 16, 2021.
---
This page contains information for the following graduating classes:
December 2019
May 2020
August 2020
Photos and Graduation Messages
Please send in your graduation photos and/or celebratory graduation messages to marketing@nullcecil.edu by May 8, 2020 for inclusion during our May 17 graduation celebration. We are looking forward to celebrating with you! Please include the graduate's first and last name in the email. Thank you!
Graduation Filters on Social Media
Cecil College has graduation filters on Instagram and Facebook—take a selfie, save and send to us for posting during our graduation celebration! Take your selfie, save it to your camera roll and email it to marketing@nullcecil.edu. Please include your first and last name in the email. We will include your images in our Virtual Graduation Celebration!
Instagram

Go to the Cecil College profile and choose the Smile Filter icon. All of our filters will be available for you to try right there!

Facebook

Open your camera to take a picture and locate the filters under the Smile Filter icon.
Having trouble finding the filters? Make sure your Apps are updated. Filters can also be found directly by clicking these links:
Congratulatory Messages From Family Members
Your family members are invited to send in congratulatory messages and notes of support to be included in the May 17 graduation celebration. Please send comments by May 8, 2020 to marketing@nullcecil.edu. Please type your message exactly how you want it to read, who it is to, and who it is from. Thank you!
Graduation Caps and Gowns
Students will also have the opportunity to purchase their own caps and gowns through Oak Hall Cap & Gown. Prices are as follows:
| Item | Cost |
| --- | --- |
| Cap | $6.30 |
| Cap, Gown, and Tassel | $31.95 |
| Additional Tassel | $4.95 |
| Shipping | $8.00 + 6% Sales Tax |
In addition, diploma frames are available through Framing Success.
NOTE: Please place orders by May 1 to ensure receipt of cap/gown for the virtual celebration. As a result of shipping delays due to COVID-19, Oak Hall's customized website for students to order regalia will close on May 1st (at midnight) for orders arriving by the date of the Virtual Graduation. Oak Hall will then reopen the customized website on May 11, 2020 for ordering your cap and gown if you missed the deadline. You do not need a cap and gown to attend our virtual celebration!
Free Tassel For Each Graduate
Cecil College Student Services is purchasing a tassel for all graduates! The free tassel will be mailed along with the diplomas.
Diplomas
Diplomas will be mailed the week of June 8th. Each graduate will receive a free tassel.
Alumni Association
Graduates, join our Alumni Association:
Once a Seahawk, always a Seahawk! Stay in touch as you go forth and own your futures. There are many benefits to joining our Alumni Association. Sign up today!
Questions?
If you have any questions, please contact graduation@nullcecil.edu.