Upper Bay Ruritan Club scholarships
Published on October 25, 2018 under 50th Anniversary, Alumni, Faculty & Staff, Foundation, General News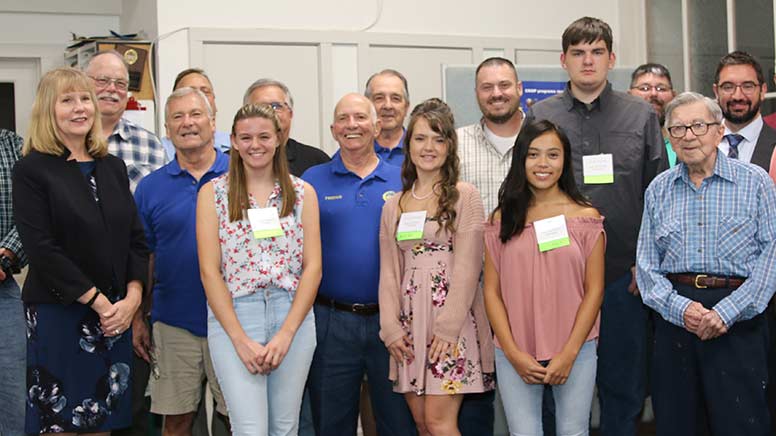 ---
CECILTON, Md. –Creating a brighter future for the next generation is at the heart of the exceptional work the Upper Bay Ruritan Club performs in the southern region of Cecil County. Through their dedication and generosity over the last decade, Cecil College students have realized their dreams.
The Upper Bay Ruritan Club announced the eight recipients of its annual $1,000 scholarships for Cecil College students during its October dinner and meeting. Initiated in 2007 with a founding gift of $2,000, the Upper Bay Ruritan Scholarship provides scholarships for graduates of Bohemia Manor High School to attend Cecil College.
On hand for the announcement were Cecil College President Dr. Mary Way Bolt, Executive Director of the Cecil College Foundation John Beck, and Mary Moore, development coordinator.
"Our students' education would not be possible without your support," said Dr. Bolt. "We appreciate the work your organization does to raise money to support our community and our college. Your generosity toward our students allows us as a college to make Cecil County successful."
Four of the eight recipients were able to attend the dinner with their families and give a personal thank you to the club. Present were Juliana Roberts, Kayla Rodgers, Veronica Soriano, and Jacob Walker. Over the last decade, 84 Cecil College students have received more than $73,000 from the scholarship.
Serving the southern region of Cecil County, the Upper Bay Ruritan Club's purpose is to create a better understanding among people and, through volunteer community service, make America's communities better places to live and work. The slogan of Ruritan is "Fellowship, Goodwill and Community Service."
The Ruritans raise money for anyone in need within the community by hosting different events throughout the year, including spaghetti dinners, an Easter flower sale, carnival raffle ticket sales, a gun raffle, and a gift card raffle. The next spaghetti dinner is Friday, Nov. 2, from 5 – 8 p.m., at Hacks Point Fire Hall in Earleville, Maryland.
To apply for a scholarship visit www.cecil.edu/scholarships.