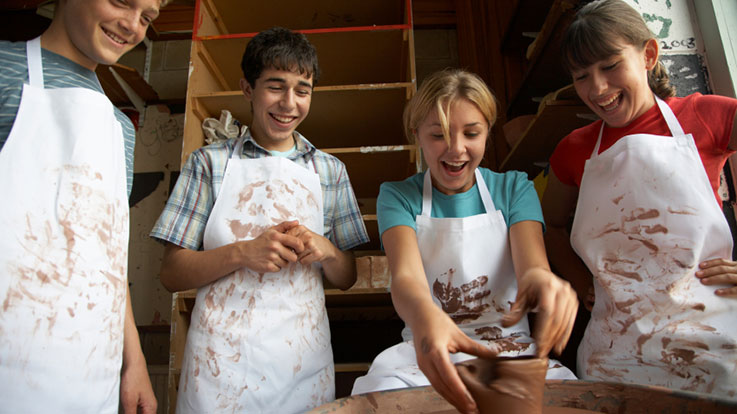 Youth classes encompass the whole alphabet from academics to zany! Whether it's hot or cold outside, we have something for your children at Cecil College.
The Arts
All art classes are designed for all experience levels.
Visual Arts include classes such as painting (acrylics, watercolor, and oil), ceramics (sculpting, wheel throwing, and Japanese Raku), drawing, graphic design, mixed media, portfolio production, and photography (on location, portfolio and in studio).
Performing Arts include music (guitar, piano, and individualized lesson on all instruments), ballet and theater.
College Preparation
We offer classes in SAT Verbal and Math Preparation at very affordable rates.
Day Camps
Did you know that we offer full day programming for K-12 students when school is out? We offer a range of day camps that will meet the interests and needs of your children while also being challenging and fun. Come join us for our Drama Days or Young Engineers day camps for just $30.00 per day. Before and after care is included. Camp is from 9:00 am – 3:30 pm. Before care begins at 7:30 am and after care ends at 5:00 pm.
Hobbies
Creative Craft workshops include Floral and Nature décor and designs for holidays and seasons (Home Floral Design, Pine Cone Wreath, Gifts from the Garden), and Steampunk Foil Art workshops for seasons and holidays (Steampunkins, Steampunk ornaments and owls).
Glass/Jewelry Design classes include basic jewelry, glass fusing, crochet wire beaded jewelry, sea glass necklaces, and stained glass studio.
Quilting and Sewing classes include beginner sewing classes and machine quilting with top-of-the-line machines.
Humanities
Writing classes include Become a Novelist and Playwriting. Both classes are great, in-depth experiences.
Parent's Night Out
We offer parents a night out on the town while we care for the kids, feed them dinner and participate in learning activities, crafts, games and more. This occurs one Friday each month from 5:00 pm to 9:30 pm. For details, times and dates, email learning4life@nullcecil.edu.
Saturday Clubs
We provide clubs each Saturday that are geared towards the interests of children between the ages of 5 and 12 years old. Clubs range from LEGOs, Pokemon, Harry Potter and more. Clubs run every Saturday in the fall and spring. Send an email to learning4life@nullcecil.edu for specific details, including dates and times.
Science & Technology
Raspberry Pi classes include Computing with Raspberry Pi and Programming with Raspberry Pi and Python.
Individualized Classes
If your child would like to learn something new, expand on their own knowledge, develop new art skills or techniques, or really would like to take one of the classes we offer but just don't have the time, we are offering a new course option for them to enjoy the same classes with the instructor on their own time. This is a great opportunity for anyone wishing to that one class they always wanted to but were limited on time.
Young People's Theater Program
The Young People's Theatre Program (YPTP) has been a long-standing staple of children's theater in Cecil County and beyond. YPTP programming includes two full-length school year productions as well as classes, acting coaching, Drama Days, internship opportunities, and summer camps. With storytelling classes for students as young as 3 and internship and performance opportunities for students as old as 17, YPTP offers fun, challenging, and exciting educational theater experiences for students of all ages.
For more program information and a full listing of our classes, productions, and Drama Days, please see our website at cecilcollegeyptp.com. To keep up with the latest YPTP has to offer, like us on Facebook, follow us on Instagram, or sign up for our email blast. Questions? Program Coordinator Kelsy Long can be reached at long5409@nullcecil.edu.