Scholarship Breakfast honors donors and students
Published on September 20, 2022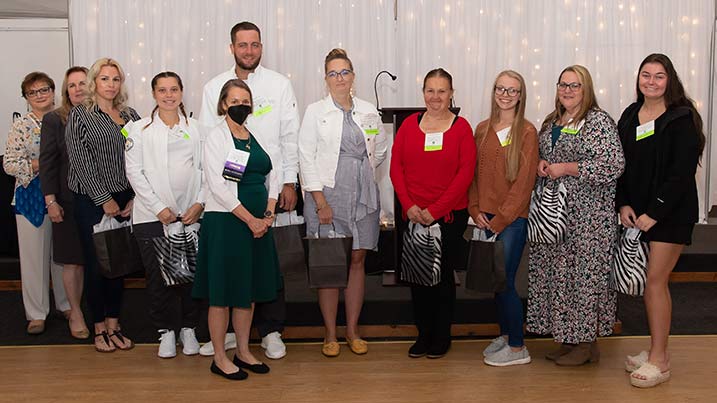 Seen here are Cecil College nursing students, who received medical instruments from the Health Education Lift Program (HELP) Fund Awards, along with donors and nursing faculty.
---
CHARLESTOWN, Md. – The Cecil College Foundation hosted its annual Scholarship Breakfast on Wednesday, Sept. 14, at the Wellwood Restaurant banquet hall in Charlestown, Md., to introduce its generous contributors to those students benefiting from scholarships.
More than 300 donors, scholarship recipients, Cecil County officials, and College and Foundation representatives attended the Cecil College Foundation's annual scholarship breakfast. This event is an opportunity for scholarship donors to meet the students supported by their generosity.
"You are making a difference in the lives of these young people," said Dr. Mary Way Bolt, president of Cecil College. "Look around this room at the students and those students who are sitting with you. I encourage you to talk to them and hear their stories. You have made it possible for them to have a brighter future."
The Cecil College Foundation awarded 320 students a total of $406,164 in scholarships this year. One of those students benefiting is Jaylah Williams, a social work major from Perryville with a passion for helping those most in need within our community. Williams is the recipient of the C. Laney Hoxter Memorial Scholarship.
"When I was back in school in Perryville, we had a food drive for those in need. We visited this house in the community, and the residents came out with grateful expressions but looked sad. Our teacher thought it would be an impactful lesson if we delivered what we collected to those in need. I learned later from my parents that they were homeless and that this was only a temporary solution for them. Right there, I knew I wanted to do whatever it takes to help others, which is why I chose to pursue a career in social work," said Williams.
Both Williams and Lindsay Parson, recipients of the Adeline Oden Memorial Scholarship which is awarded to a working parent who is enrolled in Cecil College's Registered Nurse Associate of Science program, gave powerful speeches at the breakfast about how these scholarships allow them to realize their dreams. Parson is the mother of four children, determined to be a positive role model for them. She spoke about how she wants her children to realize they can accomplish any task to which they set their minds.
"I never thought I would have the opportunity to pursue a degree in nursing, but these scholarships have made my dream a reality. It is long nights and hard work, but I am doing this for my children," said Parson.
Community colleges have recently been in the national spotlight as the viable solution to the ever-mounting issue of student debt. Since 1985, education costs have increased 538 percent from an average of $3,500 to more than $25,000. The average student coming out of college finds themselves with $38,000 of debt, according to the U.S. Department of Education.
The pandemic prevented the Cecil College Foundation from holding the scholarship breakfast for the past two years, during which the Mary A. Maloney Distinguished Service Award was presented. There was an additional honor bestowed upon honorees in attendance. Cecil College Trustee Kathy Kunda, the 2020 recipient, and Barb and Jim Sweigard, the 2021 recipients, were recognized for their philanthropy. Also honored was Chris Ann Szep, the 2022 recipient of the Mary A. Maloney Distinguished Service Award.
The breakfast concluded with the presentation of the Health Education Lift Program (HELP) Fund Awards to incoming nursing students. These awards included the students' stethoscopes, blood pressure cuffs and other instruments for their program. The Cecil College Foundation is seeking additional donors to enhance the HELP Fund and expand the support it provides. To donate to this fund, or any other fund, please visit www.cecil.edu/donate or call 410-287-1146.
The Cecil College Foundation Board of Directors is comprised of 25 community leaders who work to develop financial and other resources to support Cecil College students. The Cecil College Foundation scholarship application for the next academic year opens October 1, at www.cecil.edu/scholarships.