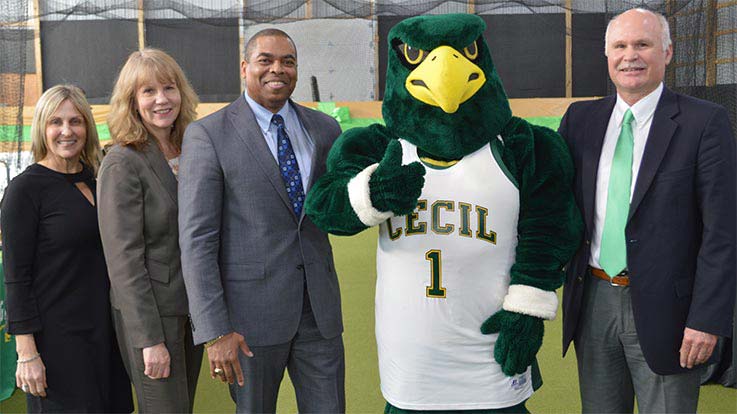 No matter how you give, your gift is an education.
Thank you for supporting Cecil College students through tax-deductible gifts to the Cecil College Foundation. However you choose to give—by donating now, through planned giving, or establishing a scholarship—your gift will change someone's life and make it possible for them to transform their future and their community. Your gift is a crucial piece of the public and private support that allows Cecil College students to flourish.
Inaugural Employee Giving Campaign
The Cecil College Foundation is pleased to launch our first official "Employee Giving Campaign" in response to our students' needs. Inspired by our students' tenacity, the Foundation's initial employee campaign is directed to raising funds in support of technology and other resources that promote student success. The past year has increased our awareness of students who need our support to attain the technology necessary for them to succeed in the current and what will be the learning environment of the future. These resources will advance our students' progress whether instruction is delivered in-person, virtually or in a hybrid format.
The Foundation greatly appreciates those employees who have given generously throughout the years and recognizes that donors contribute for personal reasons. Therefore, any donation, regardless of the directive will be applied to the campaign goal and will be eligible for the same perks. Rest assured that your generosity changes lives.
For more information and to donate, please visit the official Employee Giving Campaign website.
Give to the Annual Fund
The Cecil College Foundation relies on the generosity of alumni, businesses and other friends to provide gifts to support student scholarships, academic programs and other high priority needs at the College.
Contributions to the Annual Fund help sustain the College by providing support in the areas of greatest need as determined by the donor or identified by the Foundation. Tax deductible gifts in any amount can be made online or you can fill out our donor contribution form and mail it to:
Cecil College Foundation
One Seahawk Drive
North East, MD 21901
Support Athletics
Become a supporter of Cecil College Athletics and our student athletes by making contributions to athletics as a whole or to your favorite team. Your contributions will help student athletes compete not only on the court or field, but in the classroom as well.
Donate by Mail
If you would like to mail your donation to us, you can fill out the donation form attached to our fundraising flyer.
Donate Online
If donating online, select one of the choices for General Athletic Fund under Donation Information, or choose Other, then fill in the amount of your gift in the box that appears and add the sports team of your choice in the Comments box.
Your gift is tax deductible to the fullest extent of the law and will be acknowledged via email and in writing.
Support Milburn Stone Theatre
The Milburn Stone Theatre presents the inaugural Take Your Seat campaign, starring you! We are asking patrons to become a permanent fixture of Milburn Stone by supporting their local theatre. The Take Your Seat campaign allows you to engrave your name—or that of a family member, friend, professor or loved one—on a plaque affixed on the back of one of our seats at the Milburn Stone Theatre. For as long as the seat remains in the theatre, your support will be apparent to all who sit in that seat.
Some important facts about donating:
A donation allows you to name one seat. For multiple seat donations, please see the house manager after the performance or contact the box office at (410) 287-1023.
Naming a seat does not guarantee admission or specific reservation for any event.
The Milburn Stone Theatre reserves the right to alter messages that are inappropriate or do not comply with engraving specifications.
Cost per seat / per donation is $250.00. Make your donation online.