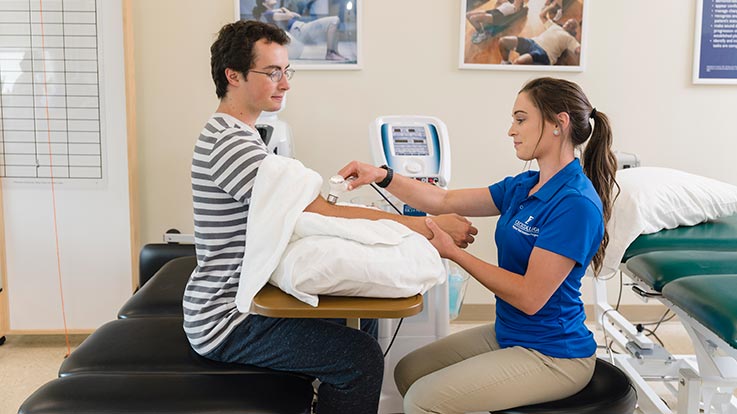 The Physical Therapist Assistant (PTA) program at Cecil College has been designed to provide a foundation for graduates to become highly skilled in providing patient/client services using physical therapy techniques under the direction and supervision of a licensed physical therapist. As a PTA, you will strive to improve function, relieve pain, improve mobility and increase ability in your patients. Upon completion of the curriculum, the graduate will receive the A.A.S. and will be eligible to take the National Physical Therapy Exam for Physical Therapist Assistants.
Admission to the PTA program requires a separate procedure in addition to your admission to Cecil College. Information on both is provided below. Questions? Contact us at (410) 287-1006 or admissions@nullcecil.edu.
Steps
Students Who Need to Apply to Cecil College
1. Complete the Admissions Application and Visit the Admissions Office

Apply online today. Paper applications are available online and at the North East Campus and Elkton Station. Meet with an Admissions Representative in the Admissions Office, North East Campus, Building A, Room A201. Hours are 8:00 am – 4:30 pm, Monday – Friday. No appointment needed.

2. Apply for Financial Aid

Complete the Free Application for Federal Student Aid (FAFSA). The FAFSA is required for all financial aid disbursed by Cecil College.

Also be sure to apply for Cecil College Foundation scholarships.

3. Request Test Scores (SAT, AP, ACT) and/or a High School, GED, Previous College Transcript, and/or Military Evaluation

If you have attended college elsewhere or within the last 5 years graduated high school or completed a GED, please bring in or have a transcript sent to Cecil College. Veterans may receive credits for military training and experience; they are encouraged to submit a transcript for evaluation. Test scores and transcripts are not a requirement for admission; however, students may receive credits or assessment exemptions after an evaluation. See the scores needed to be exempted from the placement test.

4. Meet with an Academic Advisor to Discuss Next Steps

Meet with an academic advisor to determine your next steps in applying to the PTA program. The PTA program at Cecil College is a selective admissions program and has an additional admissions process to your admissions to the College.
Students Who Have Already Applied to Cecil College
The Prospective PTA Info Packet contains detailed information, application timelines, and steps for the PTA program at Cecil College. Applications for the PTA program are made available each year in July.
Student Veterans
If you are a veteran applying to Cecil College, be sure to check out the resources and programs that we offer as well as how to apply for VA benefits.
Disability Support and Wellness Center
Cecil College is committed to the integration of students with disabilities into all areas of college life. If you have a disability, get more information about the services we offer and learn how to schedule an appointment to discuss your needs.