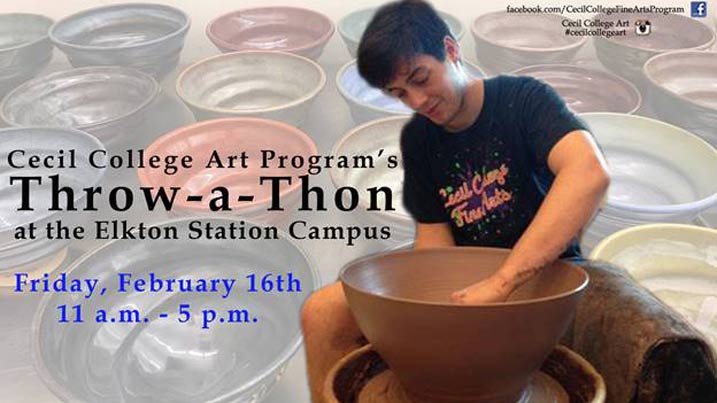 Art Program's Throw-a-Thon
The Fine Arts Program invites all students who are enrolled in or have taken a ceramics class to join us for a day of throwing or hand building bowls. The Cecil College Art Program's Throw-a-Thon will be held Friday, Feb. 16, from 11 a.m. – 5 p.m. at the Elkton Station Campus.
Work made will support the Empty Bowl Events at Cecil College and at the Newark Senior Center. This year's Empty Bowl event at Cecil College benefits Nicanor Inc. 'Agape Food Bags' and will be held on Feb. 27, from 11:30 a.m. – 1 :30 p.m. in Room 208 of the Technology Building on the North East Campus.
The Newark Senior Center's Event benefits 'Meals on Wheels' and will be held this Sunday, Feb. 11, at 4:00 p.m. All donated work needs to be trimmed by Friday, April 6, or it will be recycled by the end of the day. Sign work as "Cecil Art."
Finished donations should be placed in the donation box in Room 117 at Elkton Station. For more information about the Throw-a-thon contact CecilCollegeArt@cecil.edu.