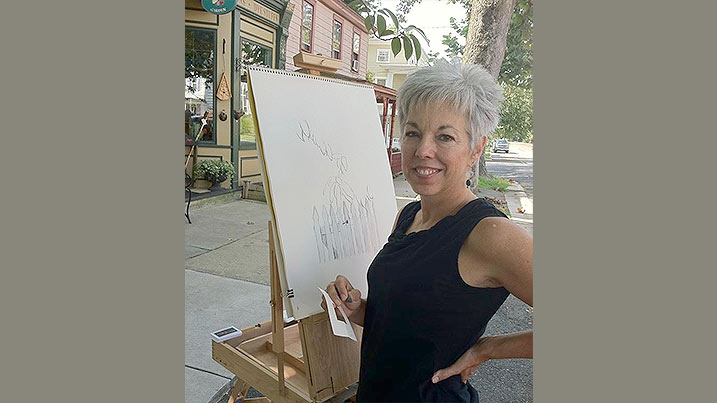 Artist Talk with Patti Paulus
Join the Art 293 Professional Portfolio Production class in welcoming Patti Paulus, artist and co-founder of The Palette & the Page located in Elkton. Patti will talk about her work and professional journey in the art field and beyond on Friday, April 9, at 10 a.m.
Following her talk, she will meet with students individually for portfolio reviews. Please contact Professor Vanni at lvanni@nullcecil.edu if you would like to schedule an assessment. 
As a longtime advocate and supporter of the College, the Art and Design Program, and its students, Patti currently serves on the College's Foundation Board, and The Palette & The Page recently created the Palette & The Page Scholarship Fund for fine arts students.
Patti was born in Dayton, Ohio, and graduated from the University of Dayton. She lived and studied art in numerous cities until she finally settled in Maryland in 1987. She currently resides in the Fair Hill region of Maryland.
Words and letters have always interested her, and she took her first calligraphy class while studying at the University of Dayton. Since then, Ms. Paulus has been a member of various guilds and continues to grow artistically by studying lettering, drawing, painting, and design with artists from all over the United States, England, Italy, and Germany. She has been actively working as an artist since 1982. Her primary art form is hand-lettered artwork, although over the last few years she has been focusing a lot of her artistic time and development on drawing with charcoal – particularly landscapes. She considers herself to be a constant student.
Her work has been exhibited in Virginia, West Virginia, North Carolina, Delaware, Maryland, and Ohio and is in numerous private collections across the world. Hand-rendered lettering designs are on the walls of homes, schools, and churches in Delaware, Maryland, and Pennsylvania. Patti has also taught and lectured on calligraphy in Virginia, West Virginia, Delaware, and Maryland.
In 2011 Patti won third place – best in show at the annual Cecil County Arts Council Juried Show for her charcoal drawing "Tentacles." In 2015 her charcoal drawing "Tetons at Dusk" was accepted into the Oxford Arts Alliance National Juried Exhibit in Oxford, Pennsylvania – one of 60 accepted works out of 400 submissions.
Patti's work is shown on a continual basis at 'The Palette & The Page,' a downtown Elkton Gallery she owns with three other women. The Elkton Main Street gallery opened in late 2009, and in 2011 officially became known as The Palette & The Page, LLC. In 2014, The Palette & The Page was selected as the 2014 Small Business Award Winner by the Elkton Chamber & Alliance. She is proud to be a part of an establishment that shows the work of numerous local artists,
authors, poets, and musicians.
Artist Website: pattipaulus.com
The Palette & The Page Website: www.paletteandpage.com