Wilmington University's cooperative agreement with Cecil College puts nurses on track for bachelor's degrees
Published on December 6, 2017 under Academics, General News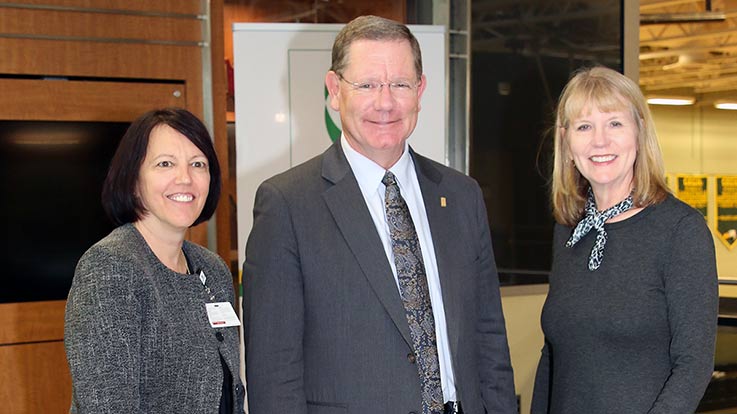 Pictured from left to right: Dr. Christy Dryer, Dr. LaVerne Harmon, and Dr. Mary Way Bolt.
---
The future of nursing is a highly educated workforce, according to industry observers. Cecil College in North East, Md., and Wilmington University in New Castle, Del., are helping to make that future a reality. Under the new 3+1 agreement the schools signed on October 18, nursing students who earn an associate degree at Cecil are more than halfway toward a bachelor's degree from WilmU.
In 2010, the non-profit Institute of Medicine called for 80 percent of the nation's nursing workforce to possess a bachelor's degree by 2020, up from the current 50 percent. This educational goal, it said, would enable nurses to deliver effective care in a wide range of settings and equip them with the leadership skills necessary to advance in the dynamic healthcare industry.
The 3+1 agreement opens the door to that opportunity, said Wilmington University President Dr. LaVerne Harmon.
"We are pleased to offer Cecil College's nursing students the opportunity to gain the additional practicum experience that our bachelor's program offers, and to provide the necessary degree that will soon be required of most nurses," said Dr. Harmon.
The two schools' cooperative relationship will benefit the schedules of working professionals and prospective job candidates, added Cecil College President Dr. Mary Way Bolt.
"In line with the Institute of Medicine's recommendations for nursing academic progression," she explained, "this agreement streamlines the transfer of graduates with an associate of science degree in nursing from Cecil College to Wilmington University for completion of their bachelor of science in nursing. Many students will now be able to complete their BSN in one year after graduating from Cecil College."
Nursing students who have earned 86 credit hours at Cecil College over three years of study — just 16 more credits than what is required to attain an associate of science in nursing degree — to transfer those credits to Wilmington University. The extra credit hours include coursework in chemistry, nutrition, American government and two humanities electives.
Once Cecil College grads have transferred into WilmU's College of Health Professions, completing the 31-credit upper division nursing core and a 3-credit research writing course will augment their nursing credentials with a BSN degree.
This arrangement also benefits students' budgets, said Dr. Harmon. "By accepting up to 86 credits from Cecil, we can offer students an affordable and convenient option to help them complete their degrees while balancing the demands of their professions," she said.
"This agreement is incredibly valuable and very appreciated," said Dr. Christy Dryer, Cecil College's Vice President of Academic Affairs. "Anything we can do to support students has a positive impact on our community."
For more information on the 3+1 nursing agreement, contact Nancy Norman-Marzella, Dean of Nursing and Health Professions at Cecil College, at (443) 674-1541 or nnormanmarzella@nullcecil.edu, or Denise Westbrook, Dean of Wilmington University's College of Health Professions, at (302) 356-6915 or denise.z.westbrook@nullwilmu.edu.