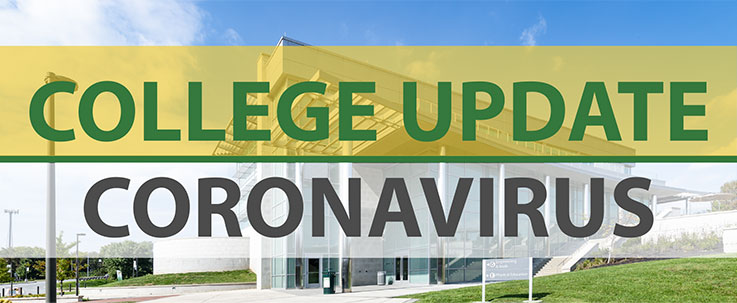 Note: If you've visited this page recently, please make sure to click the refresh button in your browser to get the latest version to load.
This page was last updated on Monday, October 3, 2022 at 1:50 pm.
COVID-19 Campus Protocols
Updated August 17, 2022
Quarantine: Updated COVID-19 Quarantine Recommendations and Processes for Students
Cecil College continues to follow the recommendations of the CDC and Cecil County's Health Officer. Please note that the CDC updated their quarantine and isolation recommendations on August 11, 2022. For COVID-19 quarantine and isolation protocol, please review the information at www.cdc.gov/coronavirus/2019-ncov/your-health/quarantine-isolation.html.
If you have questions after visiting the CDC's website:
Updates
Wednesday, August 17, 2022
On behalf of Dr. Mary Way Bolt
Dear Cecil College,
Cecil College followed the recommendations of the CDC and the Cecil County health officer throughout the COVID-19 pandemic and in continuing do so, rescinded its mask mandate effective 8 am on Tuesday, March 1.
Anyone should feel comfortable if they choose to continue masking on any Cecil College campus at any time. A limited number of KN95 masks, which were donated by the Cecil County Health Department remain available on each campus. Ask a representative of Public Safety or Student Life if you need assistance locating a mask. People with symptoms or a positive test should isolate according to CDC guidelines. Individuals with exposure to someone with COVID-19 should wear a mask until risk of active disease has passed. If you are immunocompromised, learn more about how to protect yourself at www.cdc.gov. Coronavirus updates and resources are available at www.cecil.edu/coronavirus.
The CDC recommends that the best way to continue to protect yourself and our College community is to:
Stay up to date with COVID-19 vaccines
Get tested if you have symptoms
Thank you for the support and respect you exhibited throughout the pandemic. Your assistance allowed us to maintain the health of our College and larger community.
Sincerely,
Dr. Mary Way Bolt
President
Frequently Asked Questions
What is Cecil College doing in terms of cleaning and preventing the transmission of germs?
August 17, 2022
The College is utilizing additional precautionary measures to maintain a healthful environment on all of our campuses. Our Facilities department has added additional cleaning protocols to their daily routine to help prevent the spread of germs, including the use of disinfectant wipes on high-traffic surfaces like door handles and light switches.
How is COVID-19 affecting classes at Cecil College?
August 17, 2022
Cecil College offers many classes in a variety of modalities to meet students' needs. In accordance with current CDC guidelines, social distancing will not be observed in any classes. Individuals are welcome to wear a mask whenever they are on campus or in a class. Hand sanitizer is available around campus for individual's use.
Does Cecil College require COVID-19 vaccinations?
Cecil College strongly encourages all individuals to follow the CDC guidelines regarding vaccinations. However, the College does not require student vaccinations with the exception of most healthcare programs in accordance with clinical affiliation requirements.
What updates can you provide about scholarships?
The Cecil College Foundation Scholarship application window is open from October 1, 2022 to April 30, 2022. Please visit cecil.edu/scholarships for more information. In addition, numerous scholarships that may be available to you are listed on the Scholarships page.
Can I access free, student Wi-Fi at Cecil College?
Free Wi-Fi in North East Campus parking lots for Seahawks! Cecil College provides free, unsecured Wi-Fi ("Cecil guest") in Cecil College's North East campus parking lots from 6 am – 11 pm, Monday through Sunday. ​Wi-Fi remains available regardless of the physical campus being closed due to holidays, etc., with the exception of inclement weather closings.
Virtual Support
For department contact information, a list of individual study spots with Wi-Fi on the North East campus, and a list of frequently asked questions to help get you started as a student at Cecil College, please visit our Virtual Support page.
Community Resources
For information regarding Cecil County coronavirus testing and vaccinations, please visit the Cecil County Health Department website.
Here is a list of resources for general information:
For the latest updates from Maryland Governor Larry Hogan, please visit governor.maryland.gov.